Each week Lo
ngleaftrading.com will be providing us a chart of the week as analyzed by a member of their team. We hope that you enjoy and learn from this new feature.
Gold Market for the Week of August 6
If ever there were a week for traders to be excited about a directional move in global markets it should have come last week. Leading up to last week's news, markets finished strong in anticipation of favorable news from multiple central banks, most importantly the United States and the ECB. Mario Draghi released a statement suggesting he would take any and all measures necessary to protect the Euro, and his statements were later backed by Germany and France. A strong Euro dropped the value of the US Dollar, and the buying in markets like the precious Metals ensued.
The buying only lasted until the United States and the ECB disappointed investors by not bringing any new news to support their earlier promises. Up until Fridays Non-Farm Payroll, things looked very bad for the Gold Bugs. However, Fridays Non-Farm Payroll was enough to bring buyers back to the market to finish the week.
This week, Gold traders will have to be on their toes after the schizophrenia that the market continues to see. Closes above $1600  should keep the market underpinned. Technical levels as seen on the daily chart provided should be followed very closely as we enter into this week's trade.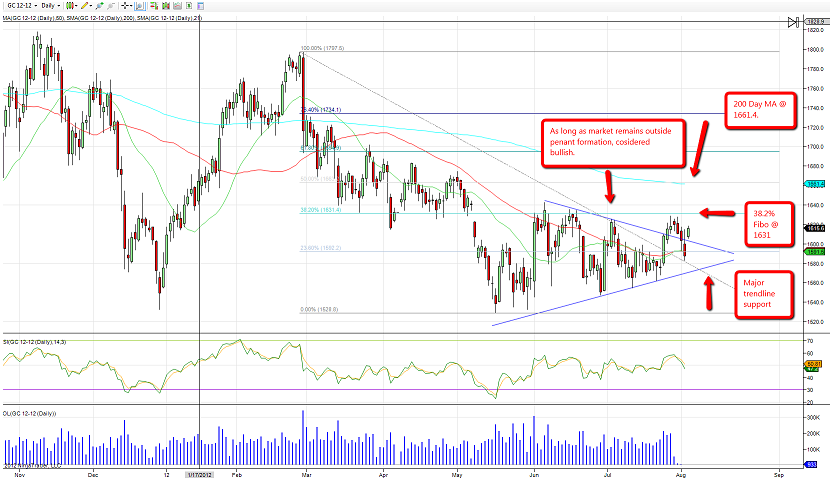 Good luck this week in the markets. And please feel free to call or email my office. As a Senior Market Strategist with Long Leaf Trading, I advise customers in the futures markets and welcome any input from fellow traders. I can be reached toll free at (888) 272-6926 or by email at bbooth@longleaftrading.com
Thank you for your interest,
Brian Booth
Senior Market Strategist
888.272.6926