The Gold & Silver markets continue to take giant leaps forward as the calendar heats up early September. After 3 consecutive weeks of solid performance to the upside, Gold rests just shy of $1700 while Silver marks time near $32.25.
Major short covering and new momentum buying before/during/and after the Jackson Hole Symposium has been fueling their moves higher. As elated as the Bulls are, there is danger on the edge of town.(The End, The Doors) Look out for Weird Scenes Inside The Gold Mine.
A potentially massive macro event risk loom large in the form of "Super Mario's" ECB Decision tomorrow and next week's FOMC Meeting. The current paths of least resistance for these Heavy Metals. Hard Currencies are up but face enormous near-term obstacles should either meeting disappoint/fail to satisfy. We could very well be in an environment where these event risks could trigger enormous moves in either direction. Be prepared.
Please refer to the charts below for further commentary and analysis.
*Look for email alerts/market updates should conditions warrant or if/when the environment allows.
IMPORTANT UPCOMING DATES ON THE CALENDAR THIS WEEK/NEXT WEEK:
THURSDAY 9/06/2012
7:30AM CT EUROPEAN CENTRAL BANK (ECB) INTEREST RATE & MONETARY POLICY STATEMENT and PRESS CONFERENCE (ECB PRESIDENT MARIO DRAGHI)
WEDNESDAY 9/12/12
GERMAN FED COURT RULING/ANNOUNCEMENT DUE ON CONSTITUTIONALITY OF FUNDING EUROPEAN STABILITY MECHANISM (ESM)
FOMC 2-DAY MEETING WEDNESDAY 9/12/12 & THURSDAY 9/13/12
THURS 9/13/12 @ 11:30AM CT FOMC INTEREST RATE & MONETARY POLICY STATEMENT
THURS 9/13/12 @ 1:00PM CT FOMC ECONOMIC OUTLOOK STATEMENT
THURS 9/13/12 @ 1:15PM CT FOMC PRESS CONFERENCE (FED CHAIRMAN BERNANKE)
DECEMBER GOLD (GCZ2) WEEKLY CHART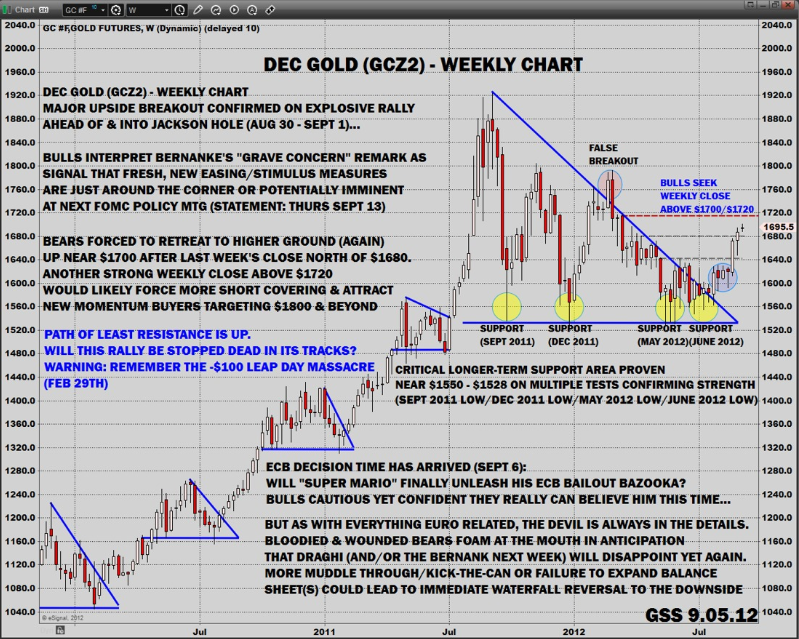 DECEMBER SILVER (SIZ2) WEEKLY CHART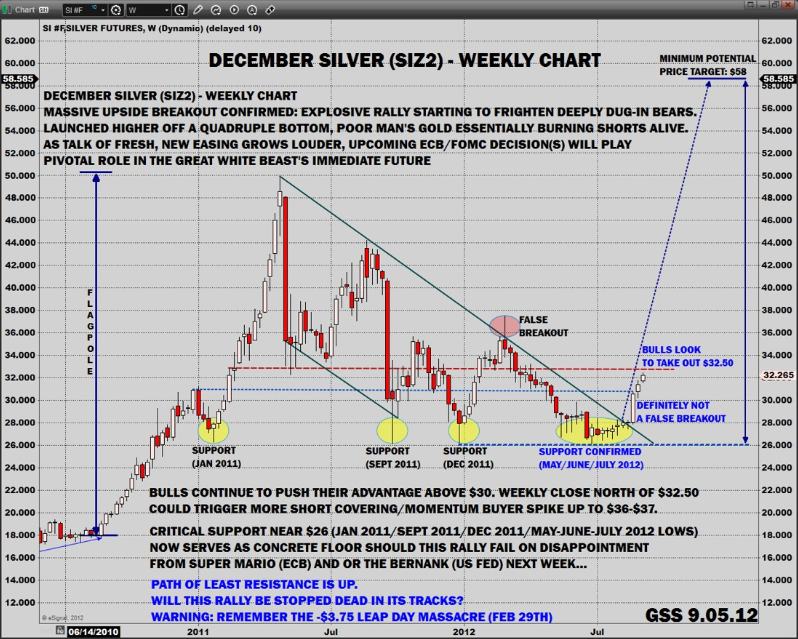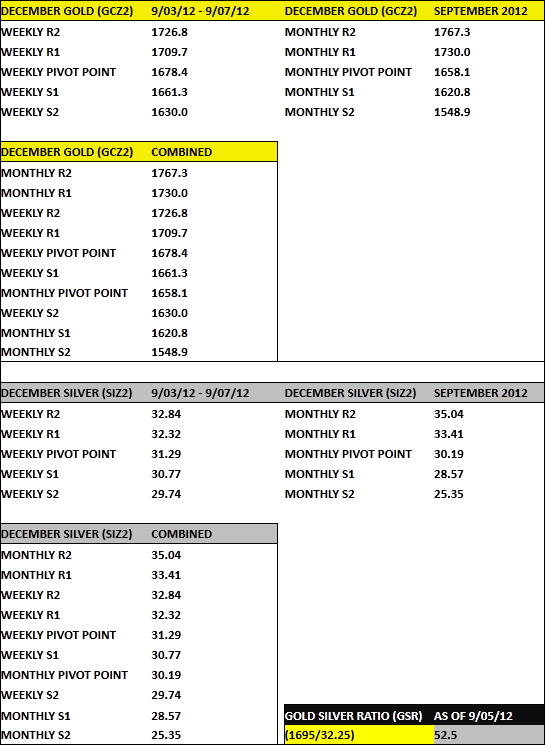 Subscribe to The Gold & Silver Speculator Absolutely Free!
This is a sample of the analysis from my weekly precious metals market commentary newsletter, The Gold & Silver Speculator. Register now to receive the most relevant investment information and trading tools to participate in the gold and silver markets!
By: Kurt Pfafflin