Each Week Lo
ngleaftrading.com will be providing us a chart of the week as analyzed by a member of their team. We hope that you enjoy and learn from this new feature.
Weekly Gold Report (March 11th through March 15th)
Will there be a follow through bid up in the US stock indexes this week? That is the million dollar question while Metals remain choppy.
I believe that there is still a bit of upside left in the markets, but not much. If you look back at the reported earnings over the last few weeks, we have seen some fairly good numbers. Many companies have reported better than expected figures, which have given investors a reason to be bullish stocks. The chart pattern shows that investors were waiting for any pullback to buy stocks, and many were ok with buying new highs. It doesn't get much more bullish than that.
What I find peculiar is the fact that US stock indexes have been able to shrug off poor data from across the pond, and while last week's unemployment figures were better, not all sectors of our markets have been wildly bullish either.
After 2012, who could blame anyone for tuning in to all reports, both foreign and domestic? There were many days that directional movement in any market could turn on a dime when a report in the US, Europe, Great Britain, or China would miss their mark. But so far this year, things have a different feel. Since the start of 2013, stocks have only had one decent pullback which was promptly bought and corrected over the next three days. And much of this move has been on continued light volume. Traders have been asking, "Who is behind all the buying"?
I would suggest to take a look at a few things. If you take note of the daily chart on Treasuries (a FED favorite), the market has been on a slide. Perhaps the FED has been slowly unwinding Treasury longs and putting money into stocks. Next look at Currencies. For the first time in a few years, foreign Currencies like the Japanese Yen and the  British Pound have been under constant pressure, almost worse than the typical plunges in the Dollar. Profit taking from long positions here could be funding this up move in stocks as well.
Regardless of who is behind the move up, I am more interested in where this money goes when the stock indexes do finally correct. Last week, the most frequently asked question was, "what price will be the top in the S&P"? And while I would love to throw out a specific number based on technical analysis, I am not sure what that exact number is. I am less interested in trying to call a top, and more interested in tracking which markets benefit from the profit being taken from stocks when things do turn around.
While the stock indexes have done a terrific job staying positive through a long list of possible land mines like the sequester, through below expected numbers and credit downgrades in Europe, and finally through disappointing news in China, I feel this show will not last must longer. We begin this week without any major Central bank news in the near future and without any noteworthy reports outside of retail sales on Wednesday. So I plan to keep an eye on the closing prices of the stock indexes. If we see a lack of follow through bidding, I will be on the lookout for whether Gold benefits from the profit taking. If you look at the strength of the US Dollar and the nice move up in the indexes, and compare that to the choppy Gold trade, it seems possible that Gold could actually be waiting for the profit taking before moving up. Only time will tell.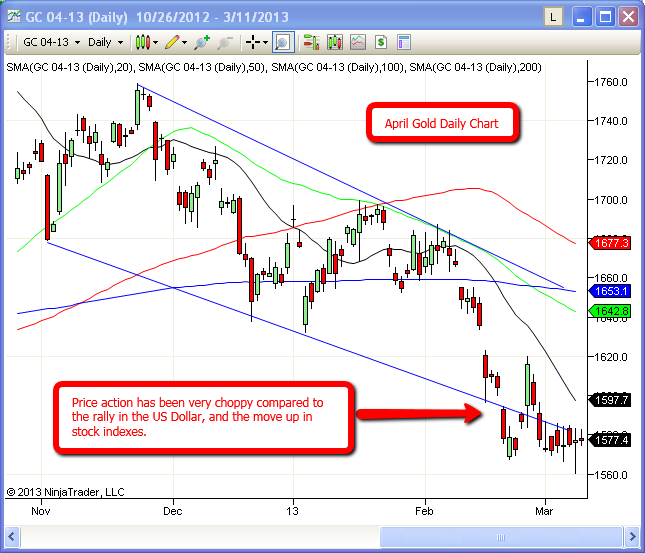 If you would like to speak with me directly about this report or about trading Futures and Futures Options, please feel free to contact me by phone at (888) 272-6926 or by email at bbooth@longleaftrading.com.
Thank you for your interest,
Brian Booth
Senior Market Strategist
bbooth@longleaftrading.com
888.272.6926
** There is a substantial risk of loss in trading futures and options. Past performance is not indicative of future results. The information and data contained in this article was obtained from sources considered reliable. Their accuracy or completeness is not guaranteed. Information provided in this article is not to be deemed as an offer or solicitation with respect to the sale or purchase of any securities or commodities. Any decision to purchase or sell as a result of the opinions expressed in this article will be the full responsibility of the person authorizing such transaction.