Let me begin by saying that I listen to Pandora (NYSE:P) streaming music from both my iPhone and iPad. I have created several music channels to listen to my favorite music which can be pretty eclectic, ranging from the Beatles to Chinese folk music. I use the free version of Pandora, and am constantly amazed at the breadth of their music repertoire.
Did you see my latest video on Pandora?
Last Monday, I featured Pandora (NYSE:P) in my mid-day video report. I warned against letting the market fool you with the three quiet days it was experiencing. I also said that I was still bullish and expected the market to go higher.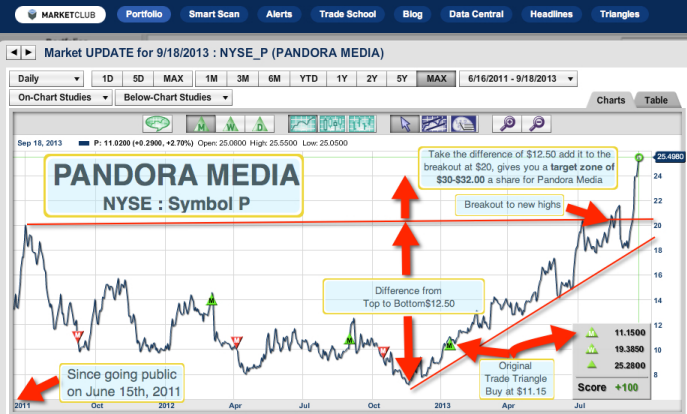 One of the stealth tactics that Pandora Media (NYSE:P) uses, like a lot of other internet-based companies, is offering a free version of their service. Eventually, they are hoping that many of the free users out there will upgrade to their paid version without advertising. I think this is taking place at a rather speedy conversion rate and I expect revenues for Pandora to continue to grow. Listening to accessible, customized music is becoming more and more a part of our everyday lives. I like the product Pandora Media puts out and I think it has a very positive future to either keep growing or be acquired by a larger company (Think Apple?).
On the technical front, you never argue with new highs. The market looks ready and capable to keep moving higher after yesterday's big move, to challenge my target zones of $30 -$32 a share.
Pandora Media has not had the kind of publicity that FaceBook (NASDAQ:FB), Twitter (IPO coming soon?) or Netflix (NASDAQ:NLFX) has had recently. I suspect that this is going to change now that Pandora is moving higher and getting on more analysts' radars.
I'm very proud that our Trade Triangles picked up a major buy signal in Pandora Media on January 14th of this year at $11.15.
As long as Pandora Media keeps growing and all of our Trade Triangles are aligned, I am staying committed to the long side of this stock.
If you'd like to add your thoughts on Pandora Media (NYSE:P) or anything else, please feel free to leave your comment below this posting.
Thanks again for your support and business,
Adam Hewison
President, INO.com
Co-Creator, MarketClub