Hello traders everywhere! Adam Hewison here, President of INO.com and co-creator of MarketClub, with your video update for Monday, the 31st of March.
In today's short video, I will be covering three markets that I really like longer-term, but don't want to buy right now.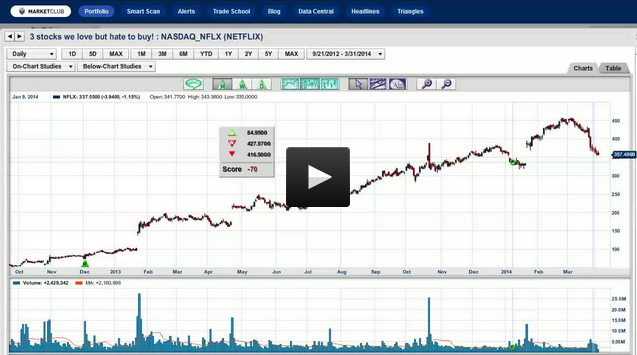 Tesla Motors, Inc. (NASDAQ:TSLA) - the maker of electric cars.
Netflix, Inc. (NASDAQ:NFLX) - the leader in streaming online video.
Amazon (NASDAQ:AMZN) - the number one online retailer.
Learn why I like these stocks, but don't want to own them right now when you watch the video.
Every success with MarketClub,
Adam Hewison
President, INO.com
Co-Creator, MarketClub
Adam appears frequently on the following financial news channels as a guest expert. Click on any cable logo to watch Adam's latest appearance.