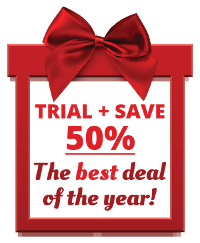 Try MarketClub, INO.com's premium analysis service, before the end of the year, for the best new member rate that we've ever offered!
You'll have ample time to test our tools for only $1. If you love them, you'll get 50% off of your first quarter as a member.
That's 30 days to see...
Every entry and exit signal we've ever produced with new signals issued every day.
Exclusive analysis on 320K stocks, futures, Forex, ETFs, and mutual funds.
Hot lists pinpointing each day's best trading opportunities.
And more...
This offer expires December 31st, so don't wait!
Note To Current Members: You have your own MarketClub Holiday offer waiting for you. Check your inbox or your member message area in MarketClub.
Please contact us with any questions.
Best,
The MarketClub Team
support@ino.com | 1-800-538-7424