The Energy Information Administration (EIA) reported that November U.S. crude oil production averaged 10.038 million barrels per day (mmbd) in November, up 384,000 b/d from October. The monthly product number was just shy of the 10.044 mmbd record set in November 1970. This gain was on top of a 17,000 b/d upward revision for October, making the total rise 401,000 b/d. By comparison, the Saudi production cut was about 460,000 b/d.
About 200,000 b/d of the increase was expected since Hurricane Nate had disrupted production in October by about amount. But about 175,000 b/d of the rise was new production. The bulk of the increase was in Texas, accounting for 114,000 b/d. Production in the mid-west was up 23,000 b/d. Gains were wide-spread among numerous states.
Production has surged by 846,000 b/d from September through November. This increase is far more significant than the one reported by the EIA in its weekly numbers or forecast by the EIA in its monthly STEO. The interpolated weekly figures for November imply a monthly average of 9.667 mmbd, 371,000 b/d lower. And the latest weekly average reported by the EIA was 9.199 mmbd. Clearly, the EIA will need to upwardly revise its weekly model soon, probably in next week's report.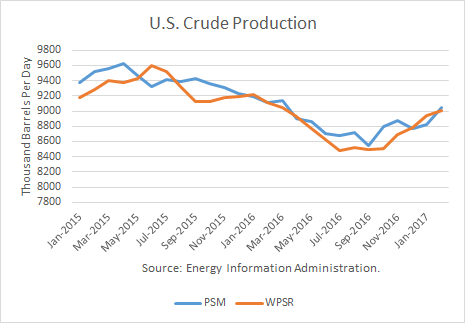 Continue reading "U.S. Crude Oil Production Surged in November" →