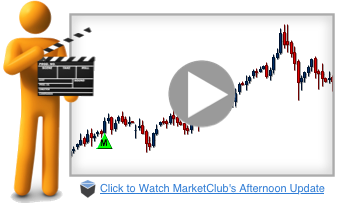 WIN A FREE 1 YR SUBSCRIPTION TO MARKETCLUB ON A HP WiFi TABLET
Hello traders everywhere! Adam Hewison here, co-founder of MarketClub with your mid-day market update for Wednesday, the 5th of October.
Beware of Mob Madness!
What is it about mobs that make them so dangerous? The problem is mob mentality. Here you have a group of people who individually are regular folks, but put them in a crowd and they lose all sense of what is right and wrong. They justify their actions because of what they see other people doing.
Using social media sites like Twitter and Facebook, mobs were getting together for the Arab spring in the Middle East. Now we have mobs getting together in Greece and other parts of Europe, even my homeland, England! And we have the same problem here in major cities in the United States. This is what I call the dark side of social media, and one that I believe is so very dangerous.
Is it healthy? Is it good for America, or any country? Absolutely not!
One of the most fascinating books I have ever read about the market is Charles Mackay's, "Extraordinary Popular Delusions and the Madness of Crowds." It is a history of popular folly, first published in 1841. The book chronicles its subjects in three parts: "National Delusions", "Peculiar Follies", and "Philosophical Delusions". This book has gathered a body of academic support as a work of considerable importance in the history of social psychology and psychopathology. I highly recommend that you pick up a copy.
As you see, 170 years later we haven't changed very much as human beings. Understanding this mob phenomenon can be a huge advantage and is going to be one of the keys to being successful in the next 12 months. As always, we will do our best to keep you informed and on the right track.
-------------
3 STOCKS IN THE NEWS
-------------
COSTCO (Symbol COST) - Trade Triangle (Monthly) Long from $83.45 on 9/16/11.
Now trading @ $81.50
MORGAN STANLEY (Symbol MS) - Trade Triangle (Monthly) short from $26.70 on 4/12/11.
Now trading @ $13.89.
RESEARCH IN MOTION (Symbol RIMM) - Trade Triangle (Monthly) short from $57.48 on 3/25/11.
Now trading @ $23.55.
Now let's go to the 6 major markets we track and update every trading day and see how we can create and maintain your wealth in 2011. Continue reading "Beware of Mob Madness" →