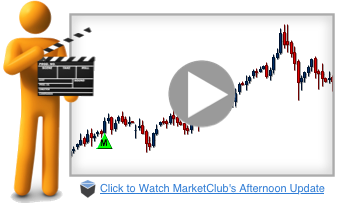 Hello traders everywhere! Adam Hewison here, co-founder of MarketClub with your 1 p.m. market update for Friday, the 5th of August.
Ladies and gentlemen, the market action yesterday was real. Please be aware that we have started on a bear market. As we have pointed out in our previous updates, we were looking for a move to the downside. That has now happened with all our indicators firmly in negative mode.
Most folks who are not in their 60s do not remember the bear markets of the 70s and 80s which caused a tremendous amount of pain for investors. It seems as though we just kicked the can down the road for the last time. The markets are bringing common sense back and they will find a solution for the economy.
President Obama came on the TV today to reassure everyone that it was not his fault that the stock market was down, it had to do with Europe, the tsunami in Japan. Mr. President we are and have been in a global economy for years. It's too bad that Ben Bernanke and you don't understand that.
Folks who saw their 401(k) and IRA retirement accounts decimated in 2008 are having a déjà vu moment. In the last 10 days the S&P 500 has lost over $1 trillion and we expect it will lose more. A simple solution to get America running again is to cut corporate taxes to 25%. Money will pour in, corporations will start hiring again and start building business. Corporations are the ones that create business and pay taxes in this country. It's not the government that pays taxes.
So, President Obama will you please help give businesses the environment to thrive in, less regulation, less taxation? This is the only way for the country to get out of this recession.
The key element which is overriding everything right now is the current market psyche... Scared. Last night every TV and cable show's lead story was the market crash. If the market closes lower today, everybody will be frantic and worried about their investments over the weekend which means we'll probably see a continuation early next week to the downside. The equity markets are getting close to a 61.8% Fibonacci retracement level of 1148 for the S&P 500 index. We expect that this level will be reached. We would expect to see some profit taking at that area and a modest retracement back to the upside. That is not to say we are bullish, it just means we going to see some profit-taking coming into this market.
I would like to thank everybody for their positive feedback! We are thankful we can help you muddle through this extremely volatile time in the markets.
So let's go to the 6 major markets we track every day and see how we can create and maintain your wealth in 2011.