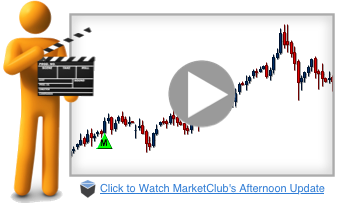 Hello traders everywhere! Adam Hewison here, co-founder of MarketClub with your 1 p.m. market update for Tuesday, the 20th of September.
Sometimes markets don't make sense.
Commentators tend to think they have to make comments on every single blip in the market. Sometimes it's just not possible to put a handle on what drives a market on any given day. Today maybe one of those days when the news that came out was not particularly positive, yet the general market moved higher.
That was not the same story for the bank stocks that reflected the downgrade by Standard & Poor's for Italy overnight. The International Monetary Fund (IMF) also warned of continued economic weakness. And then the market's rally. Like I said earlier, sometimes it is impossible to tell what's going to happen on a day-to-day basis.
You have to look at the big trends in the market to help you when the market doesn't make sense. And right now the big trends continue to remain negative for the equity markets and positive for the gold market. Those two factors have not changed as of this writing.
We have discussed perception many times before and this is one of the most powerful elements in any market. One only has to look at the recent example of Netflix to understand how powerful perception can be in the market. In fact, it is one of the stocks we will look at today to show you just how our Trade Triangle technology works and how it can benefit you in the future.
Now, let's go to the 6 major markets we track every day and see how we can create and maintain your wealth in 2011. Continue reading "Sometimes Markets Don't Make Sense" →