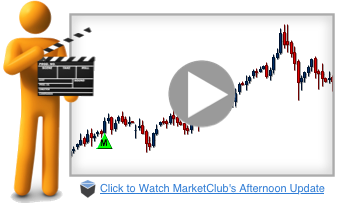 Hello traders everywhere!  Adam Hewison here, co-founder of MarketClub with your mid-day market update for Thursday, the 22nd of September.
This Russian economist died by firing squad, but he had the answer the Fed and Washington are looking for.
The problem we have is the Fed and the Government are fighting to shore up the very powerful cycle that made America great:  Capitalism.
So what's the answer to our current economic problem?
Nikolai Kondratieff was a Russian economist who came up with this economic theory:  Every 40 or 50 years in a capitalistic society, the markets peak, then turn down and go into a recession/depression. Because of these findings and other work he did on cycles, Nicolai Kondratieff was summarily executed in 1938 by a firing squad.  It would appear that these cycles guaranteed the rebirth of capitalism, and that did not sit too well with the Communist Party, who at the time wanted to rule the world.
Doing some rough math, you could look back and say in the 1930s we had a depression, in the early 1970s we had a major recession, and here in 2011 we are facing a serious recession/depression.  This is not something new that we're going through right now.  Some time ago we posted a blog report on 100 years of capitalism and how the markets expand and contract.  We, as a country, have been here before.
The question is, how do you make money during times like these?  You must be flexible!  And it helps to have technology like our Trade Triangles available to help you.  Today illustrated a good example when we had a signal to exit out of gold for intermediate-term traders.  You can also see we've been short and out of the equity markets since August.   Don't trade by the seat of your pants in today's markets, you are going to lose!  It is far more expensive to go it alone and not have our service.  This has been proven time and time again.
As we came in this morning, Europe was under tremendous downside pressure and some would say that, "the hens have come home to roost."  But the big surprise for many traders was the huge drop in commodities and gold.  I think many investors moved into gold thinking it was a safe haven.  In the long-term they could possibly be right, but these aren't buy-and-hold markets anymore.  The world has changed and you need to adapt to this new investment world, or you will not survive.  In the current markets you need to be aware of the direction of the trend and where to place you money.  Our mission here at MarketClub is to help you survive and thrive in these uncertain economic times.
Now, let's go to the 6 major markets we track and update every trading day and see how we can create and maintain your wealth in 2011. Continue reading "This Russian Economist Died By Firing Squad, But He Had the Answer the Fed and Washington Are Looking For." →