Hello traders everywhere, today will be looking at Internet stocks and what's hot and what's not. The six stocks we will be looking at today are Apple Inc. (NASDAQ:AAPL), Amazon.com Inc. (NASDAQ:AMZN), Netflix Inc. (NASDAQ:NFLX), Facebook Inc. (NASDAQ:FB), Yelp Inc. (NYSE:YELP) and finally Yahoo! Inc. (NASDAQ:YHOO).
There is no question about it we live in the Internet age or as Intel likes to say "The Internet of everything."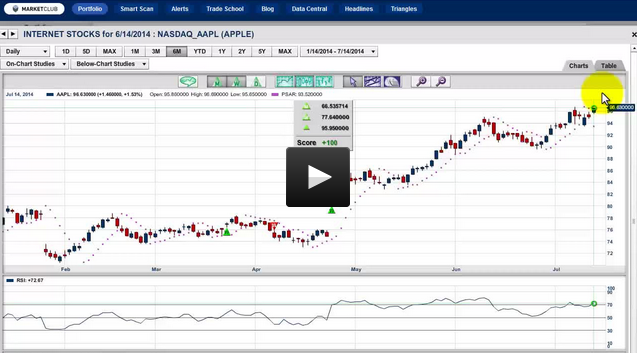 When trading Internet stocks momentum seems to be the rule of the day, and when an internet stock is in favor and going up you want to be long and when they're going down you want to be out. Sounds pretty straightforward doesn't it? But sometimes investors drink the Kool-Aid and stay with bad trades too long or in this case Internet stocks that go south and never return. In today's video will show you how to avoid that syndrome.
As you can see from the symbol choices, these are all well-established, liquid companies in terms of trading, you are not buying speculating in some start-up that makes no money.
So let's get started and go to the videotape and see what's cooking with these six stocks.
Every Success,
Adam Hewison
President, INO.com
Co-Creator, MarketClub