When was the last time you bought something on Amazon.com (NASDAQ:AMZN)? For me, I purchased a pair of cycling gloves last week. It seems that when Amazon reported a wider than expected loss, investors were surprised and shocked. What were they expecting?
The reality is that Amazon is a juggernaut in online commerce and is seeking world domination in selling you stuff. The strategy that Jeff Bezos is using for Amazon is not new, Sam Walton in the 60s did the exact same thing with Wal-Mart Stores, Inc. (NYSE:WMT). Sam's idea was pretty simple, start with low prices so it puts your competitors out of business, then you can raise your prices afterwards. Amazon is doing the same thing, but online.
Just like Walmart, Amazon made it easy to buy something and return it if you don't like it, all with no hassles. Amazon is building something that is incredibly valuable - millions of consumers who want to buy products through them alone.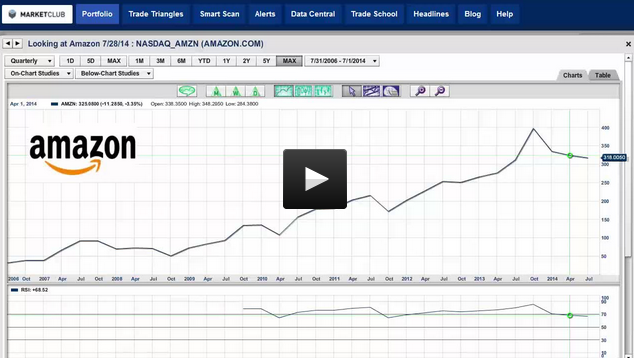 Just imagine, all Amazon has to do is raise prices just a little bit and they will be very profitable. Will consumers run the other way when this happens? No, as consumers we are so trained to buying at Amazon that a small price increase is not necessarily going to have buyers running.
Let's face it, we are all creatures of habit and I've gotten into the habit, like millions of other consumers, of just going to Amazon looking for an item and buying from them. Sure, if I searched around the web and spent a lot of time, I may save a dollar or two, but I would also be potentially doing business with companies I don't know. How reputable are they? Do I feel comfortable giving them my credit information and other private information? [Read more...]