While it may seem like 2018 is still far off, in only a matter of weeks we'll be entering into a new year with new trading opportunities.
Finding opportunities with big upside potential can be a challenge, but knowing the most profitable time to enter and exit a trade takes patience, discipline, and a market-proven, time-tested method.
20 years ago, we developed an algorithm to identify shifts in trend.
More importantly, we refined a method that confirms trends on various time frames to find the strongest, most profitable moves for our members!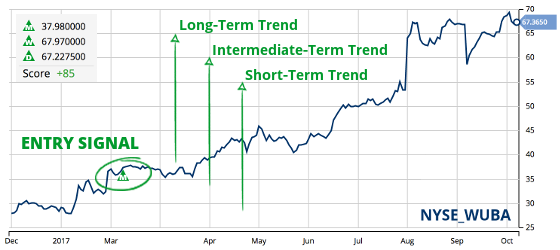 Try MarketClub for 30 days for only $1 before December 31st and we'll give you 50% your first quarter as a member (if you decide to stay after your trial).
That's ample time to follow our Trade Triangles - and learn to love the trend!
Remember, you must take this MarketClub trial before December 31st to get this Holiday Membership Rate.
Note To Current Members: You have an even better, member-only MarketClub holiday offer waiting for you. Check your inbox or your member message area in MarketClub.
Please contact us with any questions.
Best,
The MarketClub Team
support@ino.com | 1-800-538-7424