Today I'd like everyone to welcome David Waring from InformedTrades.com to come and teach us a bit about the all important trailing stop loss method! It's always a top question among members and David makes it clear the best methods to use. Enjoy and feel free to comment!
=====================================================================
In all my years one of the most frequent topic I discuss is the psychological difficulties people have with letting their profits run, and how the concept of the trailing stop is one way traders can overcome these difficulties that are the downfall of so many traders.
Once a position has begun to move in a traders favor many successful trader's will manage that position through the use of what is known as a trailing stop. The simplest type of trailing stop is what is known as a fixed trailing stop which simply moves along behind a position as that position begins to move in the traders favor. The beauty of the fixed trailing stop, is that while it will move up behind a long position or down behind a short position as the position moves in the traders favor, if at any time the position begins to move against the trader, the stop does not move, essentially locking in a large portion of the gains the trader has made up to that point.
Let's say for example that you had been following the trend in the EUR/USD chart below which started back in August and were looking for an opportunity to get into a trade. Based on your analysis you decided that if the market broke out above the little resistance point that I have highlighted on the chart below and the Average Directional Index (ADX) was in a good position that you were going to enter long at 1.4360 to try and ride the trend. To manage the trade if it moved in your favor you placed a 100 Point trailing stop on the position at 1.4260. Now in this example if the market moved against you from the start 100 points your stop at 1.4260 would not have moved and you would have been executed on that order when the market touched 1.4260. As you can see from the chart below however, in this example the market did not pull back but went higher. As our stop is a 100 point trailing stop once the market moved up from 1.4360 the stop is going to continue to move up remaining 100 points behind the current price. If the market moves down however the stop does not move. So in this example once the market stoped moving higher at 1.4752 so did our stop and since the market pulled back 100 points from that level we were stopped out in this example at 1.4652.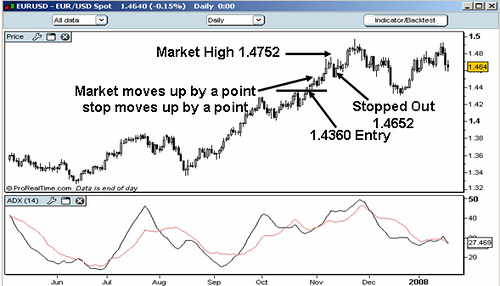 Most trading platforms will allow you to set a fixed trailing stop on the platform so you do not have to manually manage the order.
As we have touched on briefly in previous lessons, indicators can also be used as trailing stops. One of the more popular indicators which was designed specifically for this purpose is the Parabolic SAR which we covered several lessons ago and you should review if you have not done so already.
As we discussed in our lesson on the Average True Range (ATR), this and other methods for measuring volatility in the market are often used to set hard stops by traders when entering the market so they do not get stopped out by market noise. In addition to using the ATR as a hard stop, this and other volatility based indicators can also be used as a trailing stop, moving your hard stop along behind the position a set number of ATR's for instance as it moves in your favor. As with a hard stop this protects your position from market noise, while allowing you to look in profits should the market begin to move against you.
Many if not all of the other indicators could also be used as trailing stops with the Moving Average probably one of the more popular here as well.
Aside from fixed and indicator based trailing stops another strategy that many traders implement is a fixed percentage of profits trailing stop. Using this method a trader will set his hard stop his profit target, and then once the market hits his profit target will then begin trailing a stop which could be any combination of the methods above. This method gives the trader a greater chance that the trade will hit his profit target but provides less protection should the market reverse and begin to move against him.
David Waring
InformedTrades.com