Today we welcome Les Schwartz of DecisionBar Trading Software to the Trader's Blog. Les shares his thoughts on why many gamblers become traders and how those types of traders can shift their trading psychology to make more profitable moves in the market place.
---
Having been an active trader for 20-plus years, I've had the opportunity to observe much more than your average investor.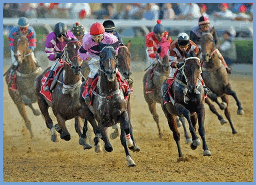 For instance, one of the unusual things I've observed is that many traders come from a gambling background, and horse betting in particular. In fact, many years ago I worked at a race track and placed a few bets myself.
Why do horse betters frequently gravitate toward trading?
I think it's because there are certain aspects of trading that are more predictable than horse betting. A stock or an option or a currency pair can't break a leg or unexpectedly fall ill.
Plus, very few guys who play the horses make a full-time living at it. But there are many, many traders who enjoy a healthy part-time income – or even make a full-time living – from trading.
I believe this is because the odds of winning as a trader are far better than the odds of winning as a horse better.
Unfortunately, many ex-gamblers hold onto bad thinking patterns, what I call "the gambler's mindset." It's the mindset that you can roll the dice, or buy a lottery ticket, or pick a trifecta and suddenly win a fortune.
This kind of get-rich-quick thinking is hard to shake, and it keeps many traders from reaching their full potential.
The Danger of Gambling Psychology in Trading
If you trade like a gambler, you're bound to lose money. You'll make bad trades. You'll throw good money after bad. And eventually, you'll find yourself wondering where all your money went.
(Hint: Wall Street took you for a ride!)
Fortunately, there are a few simple mindset shifts that can turn your trading around, sometimes overnight.
Mindset Shift #1: Don't Chase Trades; Let Them Come to You
Gambling produces some strange responses in people. If a gambler wins once, he's likely to keep gambling until he wins again… even if he loses a small fortune along the way. And if he loses, he's likely to keep gambling in an effort to "win back" what he lost – even if he continues losing.
These behaviors are not unique to gamblers; traders are guilty of doing the same exact things. If we win a trade, we try to force another winning trade – even if the second trade is doomed. And if we lose a trade, we try to quickly make back what we lost on the next trade.
This irrational behavior is caused in large part by our cultural conditioning. All of us are hard-wired to work 40 hours a week. If we work any less, we somehow feel that we don't deserve the money we're making. We believe we must "work hard" to earn a living.
This belief often carries over into trading, and so we "work hard at trading." We enter trades even when there aren't any good trades available. We trade for trading's sake. Then, when our poorly placed trades move against us, that gambler's fear of loss kicks in… and we begin making even more foolish decisions, which compounds our losses.
It doesn't take a genius to see where this behavior will lead. So here's a suggestion: Once you understand what makes a good trade versus a bad trade, let the good trades come to you.
One of the best ways to do this is to monitor just a handful of stocks, options, or currency pairs and become familiar with them. Over time, you'll understand the price movements better, and you'll be able to spot good trades more easily.
You don't have to trade every day or even every week to make a very good living as a trader. You only have to make a few good trades when the opportunities present themselves. In trading, patience is most definitely a virtue.
Mindset Shift #2: Adopt a "Win Small" Approach to Trading
Gamblers-turned-traders are often looking to "hit the jackpot." They want to place one trade and be set for life.
But it doesn't work this way. It often takes scores of trades, even hundreds, to really build the kind of fortune your neighbors would envy.
With that in mind, it's much better to aim for small consistent wins. Small consistent wins are much more realistic. And compounded over time, small wins can add up to truly staggering numbers.
The best part is this: While you are focusing on small consistent wins, you'll be sure to experience some big wins as well, a natural byproduct of your "win small" strategy.
Mindset Shift #3: You Don't Have to Win Every Trade
The last mindset shift – and possibly the most difficult of all – is to understand that you don't have to win every trade to make good money as a trader. In fact, losses should be expected and planned for.
The best fund managers, the best traders, and the best trading software all have this in common: Sometimes they lose money.
Ultimately, it's how you react to losing money that dictates whether you'll succeed over the long haul. Do you stick to your stops? Do you follow your money management rules?
You see, it's not how you do on a single trade that counts. It's how well you do over a series of trades. If you win 6 or 7 trades out of every 10, you could be doing quite well.
What's more, if you do a good job of limiting losses (a function of a solid exit strategy), then you may even be able to come out ahead if you only win half the time (five winning trades, five losing trades).
However, I understand that emotions can still run rampant in spite of your best efforts to control them. So after getting out of a losing trade, you might want to take a break for a day or two so you don't make any more bad trades during the depths of disappointment.
Change Your Mindset, Change Your Trading Account
The truth is, you trading account reflects what's going on in the gray matter between your ears. So the next time you start wondering why you've been on a losing streak, or why your trading account is shrinking, take a moment to self-reflect.
Then remind yourself to:
Wait for good trades
Aim for small consistent wins
Be okay with losing trades (so long as you limit your losses)
These small "mindset shifts" will help prevent you from trading like a gambler and trading like a real business person instead. Not to mention it will help you grow your trading account consistently over time.
---
About the Author: Les Schwartz is a 20-year trading veteran and the creator of DecisionBar Trading Software. DecisionBar uses proprietary algorithms to zero in on perfect trading opportunities in real time and remove the guesswork involved in picking winning trades. Click here to learn more about DecisionBar Trading Software.
---