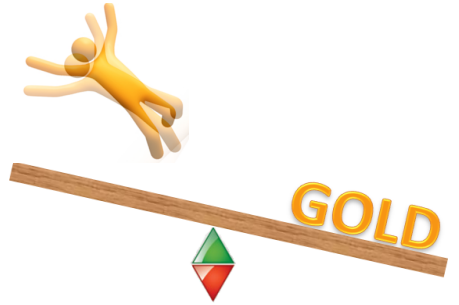 We began Q1 with high hopes of keeping our winning streak alive, just as we had finished out the year on a very positive note with some strong gains in Q4 of 2009.
Q1 proved to be a challenging quarter for the "World Cup Portfolio." Out of the six markets we track, we had winning positions in four markets (that's the good news) and losing positions in the other two.
However, the big disappointment in Q1 was the gold market which produced our biggest quarterly loss of any market since we began tracking the "World Cup Portfolio."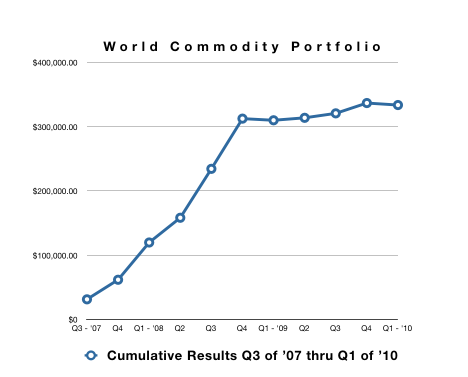 The main reason for this loss was the choppy, trend-less action in the gold market. In the eleven quarters we have been tracking gold, we have made money in eight of those quarters. This is not the time to abandon trading gold, rather it is a time to continue with our game plan and "Trade Triangle" approach that has been so successful for this portfolio. Furthermore we have never had back-to-back losing quarters in gold.
On the brighter side, the grain markets proved to be resilient and just the ticket as corn, wheat, and soybeans all put in positive performances. The only other market to put in a negative performance in Q1 was crude oil.
All these gains were not enough to turn the tide and prevent our only second losing quarter in eleven quarters. While the loss was 6% based on margins of $50,000 (margin is needed to trade the "World Cup Portfolio") it was still a loss and we hate losses.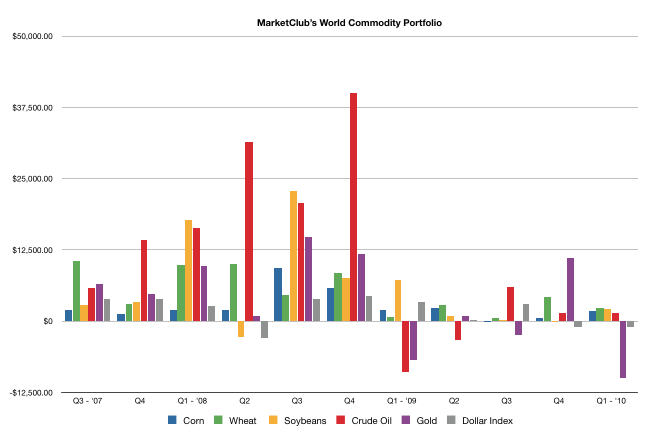 As we have said before, diversification is the key, followed by a sound market-proven game plan. This is the one way to positively approach the markets with the odds stacked in your favor.
Q2 promises to be better and we expect to turn in a positive performance. This is based on the fact that the "World Cup Portfolio" has never lost money two quarters in a row.
Even with this quarter's loss, the "World Cup Portfolio" has produced, on average a 60% return per quarter. This number however was greatly skewed with the huge run up in crude oil in Q4 of '08. That being said, it just emphasizes the point that you have to be in it to win it.

The results we show in the "World Cup Portfolio" are hypothetical and should not be taken as trades that were actually made in the marketplace. The results however, do show and resemble how you would have come out using MarketClub's "Trade Triangle" approach.
If you'd like to know more about this approach visit our website at MarketClub.com or call us at 1-800-538-7424.
Here's to a profitable Q2.
All the best,
Adam Hewison
President of INO.com
Co-founder of marketclub.com