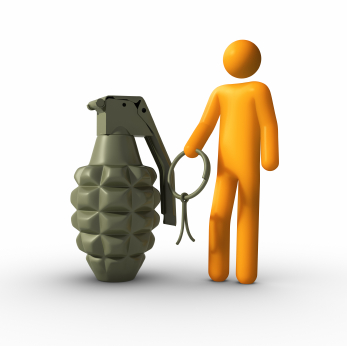 It is always interesting to live through history. However, I think many traders, or should say investors would probably like to forget about the history making market action on Thursday.
I just wanted to write a short post and show you where we stand with our "Trade Triangle" technology.
One of the advantages of using MarketClub's "Trade Triangles" is that you don't have to worry about the problems in Greece, nor do you have to worry about earnings reports, downgrades, supply and demand statistics, and all of the millions of other things that make up the price of a stock or a commodity.
An inescapable reality of the market, that effects all of us, is perception. This one characteristic can trump earnings reports, good news, and any other market changing force that comes out. For the last 12 months, the perception has been that things are getting better, and that pushed the market higher. Perception may have changed yesterday as investors are now once again beginning to worry about the euro, sovereign debt, and the value of paper currencies.
So here is how we stand in the major markets with our "Trade Triangle" technology:
Gold: long from 1192.08 on 5/6
Crude oil: short from 85.12 on 5/4
S&P 500: out and neutral from 1181.62 on 5/4
Dollar Index: long from 81.90 from 4/23
Thursday was a very stressful day for many traders as they lacked one essential tool for trading and that is, investing and trading with a game plan.
The advantage of trading with a game plan and "Trade Triangles" is that it takes much of the guesswork and all of the emotional stress out of the equation. If you would like to receive a complimentary PDF copy of my personal game plan, simply call our office  800-538-7424 or e-mail us at [email protected] and put 'game plan' in the subject line.
It remains to be seen what's going to happen in the future, but the one thing that every trader/investor must pay attention to is perception and what the markets are doing.
On a brighter note, our monthly "Trade Triangle" remains positive on the equity markets. However, this can and will change when our monthly green "Trade Triangle" (which has been in place since 5/4/09 from 888.70) on the S&P 500 turns red. It hasn't done so yet, but we will follow that signal when it happens.
After yesterday, I would expect the markets to be much less volatile today as traders, investors, and the world, breathe a collective sigh of relief that the weekend is here.
All the best,
Adam Hewison
President, INO.com
Co-creator, MarketClub