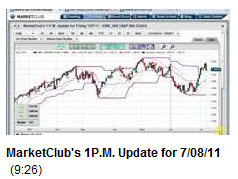 Hello, traders everywhere. Adam Hewison here, co-founder of MarketClub, with your market update for Friday the 8th of July.
It was a shocker. We only created 18,000 jobs and unemployment jumped up to 9.2% - how can we say things are getting better when here we are basically two years after the low in the equity markets with unemployment still stubbornly stuck over 9% and probably going back over 10%.
Folks, there is no "Plan B". For the past two years, this administration has declared warfare on business, particularly small businesses - the folks who actually create jobs in this country!
It is amazing to me that they could be so blinded with their political philosophy that they have actually forgotten that there are real people out of work that need jobs.  Small businesses - the very people who create 70% of all jobs in America, are being punished as the current administration wants to tax them more. How stupid can things get. Oh, they can get pretty stupid.
As I mentioned yesterday in my 1 p.m. update, I felt that the S&P was in thin air and also as cyclic high. I think we could be seeing the start of a 15 to 20 day correction. We also recommended taking some money off the table in our crude oil trade which also went very well.
As mentioned earlier I'm doing this report a little bit earlier as I feel today could be an important turning point in the markets.
Now let's see how we can protect and make your money grow. Click here to watch the video.
One of things we like to do on Friday is check the markets for 52-week highs and 52-week lows. This is easy to do with MarketClub's SmartScan technology. Here's how you do it:
First, go to the SmartScan tab and choose 52 week highs,then filter the results (watch video) using criteria that matches our own personality and price points.
Now, you want to do this starting around 3:30 to 3:45 on Fridays. This will show you the markets that are really strong. The idea is to go with the flow for the weekend and take profits on the opening on Tuesday morning.
It's a simple approach and it's worked out very well in the past. I suggest you do this and track it yourself for a while just to get a feel of the concept. We will also be doing the same thing and recapping the markets that came up on our 5 p.m. show on Wednesday. You wont want to miss this recap as it will be an eye opener for you.
Now here's what I promised you:
"If you haven't yet had a chance to take my FREE 10 part trading course, I have a special treat for you. Just scan the screen with your enabled smart phone, pda, iPhone, iPad etc for instant access."
Every success,
Adam Hewison
President of INO.com
Co-founder of MarketClub