By: All About Trends
In the stock market there are three things you need to know.
Uptrends and how to trade them
Downtrends and how to trade them
Change In Trends and how to identify them be it down to up or up to down.
Given we are sitting at some year highs all going into May with it's "Sell In May And Go Away" mantra (for those who subscribe to that self fulfilling prophecy) not to mention the potential wave count (5 waves up) and a fair amount of resistance now is a good time to talk a bit about Change In Trend patterns to be aware of.
After all if you are long at a market peak you need to know when to get out right?
Remember, the "What To Watch Out For" on the long side is the "What To Watch For" on the short side.
Yesterday we talked about a green line as shown in the daily S&P 500 chart. Let's expand on that a bit today as promised.  We call that Green trendline break with its bounce back up from underneath it a potential KODR which is short for Kiss Of Death Retracement. What this is, is when an issue breaks its uptrend to the downside as shown but then comes back up (think snapback rally) to kiss it from underneath then it rolls over to the downside some point soon after.
Currently in all the index charts below we see that as having taken place, at least the trendline break and the start of a rally back up under that trendline.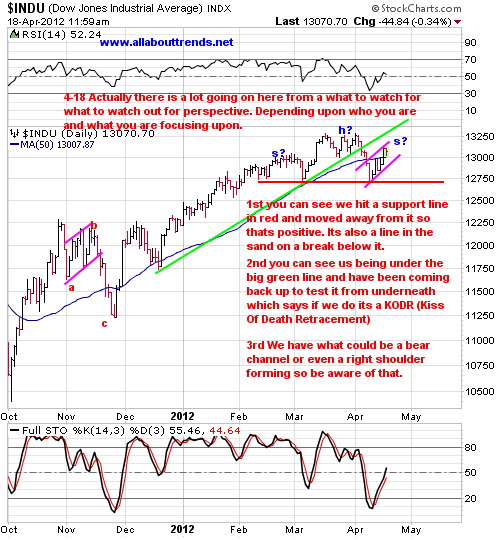 As you can see in the Dow chart , we've broken a trendline and are now in the process of bouncing back up to it after a test of a support level. In addition to what's mentioned in the chart one can also see a potential (and we stress potential) head and shoulders top brewing. In order for this to come to fruition (a break of a head and shoulders top that is) this index must break below the lower pink bear channel line. That break is ones what to watch out for if long and the what to watch for if looking to sell short.
At this point this is all just a potential.  BUT we want to make sure you are prepared in advance in the event this were to take place. Will it? Who knows, but at least you won't be a deer in the headlights should that occur -- it's called managing the "what if" folks simple as that. Like we said it's just a potential scenario at this point that we'll be monitoring from here.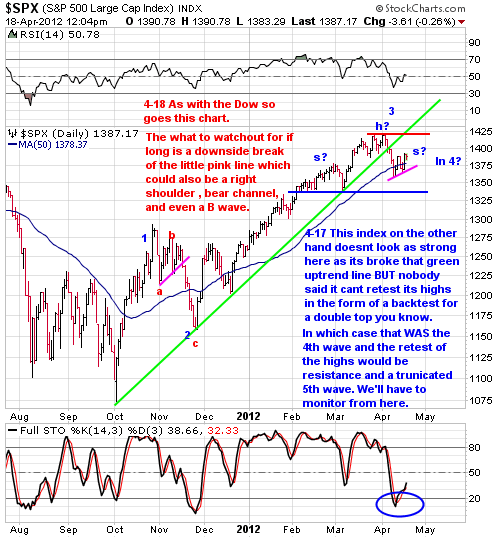 So for us we'll keep our focus upon our current positions and the new names we've added to the watch list today all from a "It's A Market Of Stocks" and a "Trade What We See" perspective.
Special offer for INO members only!
We have a simple process to help you earn consistent returns in the stock market.
1. We publish a newsletter each Sunday and each trading day that gives you an overview of the market, teaches you about profitable technical chart patterns and how to trade them and includes a watch list of stocks that have completed these patterns.
2. When a stock on our watch list triggers a trade, we send you a Trade Trigger email alert so you can take the trade at the most opportune time.
3. Each newsletter provides updates on our current positions, stocks on our watch list and new stocks added to our watch list.
4. When we are ready to lock down our gains, we send you a Locking In Gains email alert.  With our trade trigger alerts and locking in gains alerts – we make it easy for you to trade in tandem with us!
All of this is available to you for just $29.99 a month.
But since you are an INO member, you'll receive our service for just $19.99/month – that's a 33% savings and is month to month, cancel anytime!
Folks, it doesn't get much better than that. To sign up today, just click here.
You have very little to lose and a lot to gain!
Sincerely,
All About Trends
allabouttrends.net