Clearly, Facebook's (FB) $38 IPO was a bust (because the price dropped). So, the "market" took matters into its own hands. First, it tossed out the Morgan Stanley (MS), Goldman Sachs (GS) JPMorgan Chase (JPM) triumvirate's hype, dismissed Nasdaq's day-1 blunders and ignored investors' cries of "Foul!" Then, it focused on the real Facebook: A large, unique company with broad market appeal, a global brand name, and a potentially bright future.
So, what is the result? $32 is the market-determined IPO price. Yes, some (many?) public investors paid the $38 Wall Street IPO price or higher. However, they didn't have all the information and/or they were unable to react because of the Nasdaq's foul ups. However, the information is out now, and Nasdaq is operating smoothly. Therefore, the real IPO price can be determined by the market, and it looks to be $32.
To see this new IPO price being determined, here is the trading so far, in five-minute increments.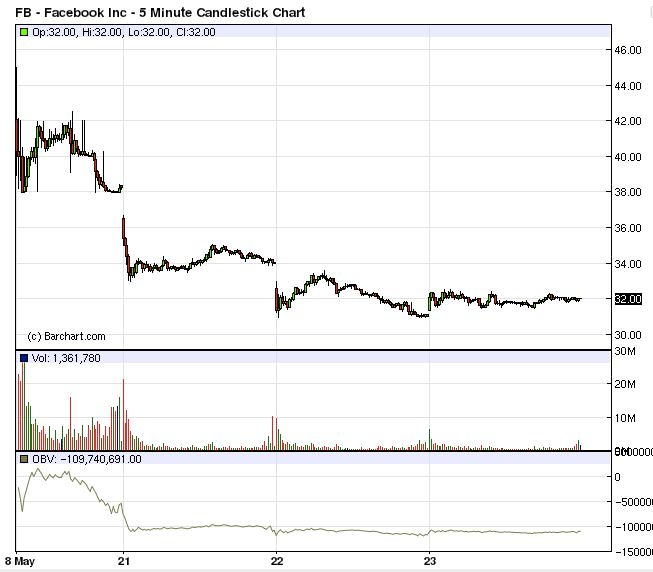 (Stock chart courtesy of BarCharts.com)
Note the "OBV" (On-Balance Volume) line. It's an important buying/selling trend measure. OBV nets the volume by price movement (up = +shares traded and down = -shares traded). By early Monday, with the news out and all trades handled, the OBV had dropped to about -105 million shares. Since then, it has basically moved sideways, meaning the selling trend has apparently passed with buyers willing to pay the $32 price.
The bottom line
It's time to forget Wall Street's $38 FB IPO missteps. While the details of what went wrong and the repercussions will be interesting, they are irrelevant to the stock's payoff from here. Rather, we need to focus on the stock market's $32 pricing of Facebook's IPO redux.
Investors now can focus on how Facebook (the company) will perform from here. If they agree that "Facebook is a large, unique company with broad market appeal, a global brand name, and a potentially bright future," then buying/holding a $32 position looks wise. The original $38 IPO price or the $42 opening price are immaterial to that decision.
Disclosure: I have no positions in any stocks mentioned, but may initiate a long position in FB over the next 72 hours.
Additional disclosure: Positions held: Long U.S. stocks