At All About Trends, our mantra AT ALL TIMES is "REGARDLESS OF WHAT THE MARKET THROWS AT US".
After all that is a trait ALL top traders have in common and that is what ALL of you should be striving for vs. getting sucked up in all the Euro hoopla.
When looking at the daily charts, you can see we are hitting some resistance levels.  What we want to do is give things a little time to sort themselves out which means PATIENCE with a capital P before we get too cute in any one side of the market here.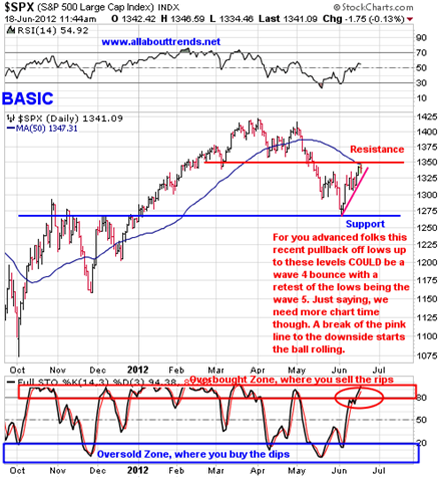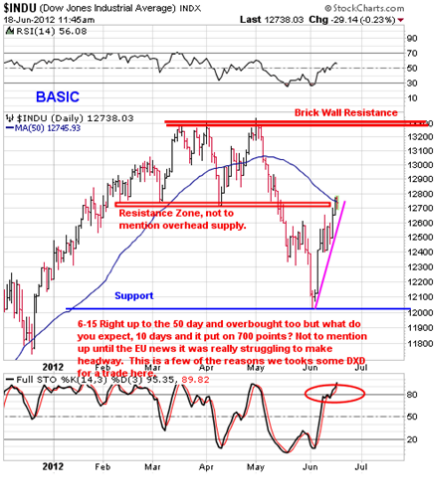 Even if we are ultimately going to work higher over time, we have to work off this recent spike we've seen the last three days which leads us to buy the dips (and cover shorts at the same time).  That is IF we are going higher.
The name of that game with that scenario is First Thrust Up, Pullback Off Highs (POH) as the chart of watch list stock BLOX shows: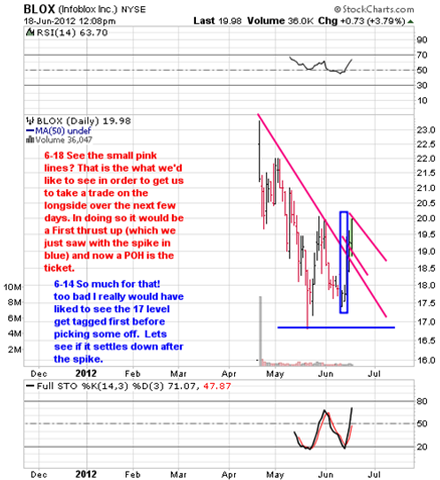 There is also a good possibility that IF we can't roll over at some point this week that things become a chop fest in the indexes with things moving more towards everything being more of a market of stocks with issues trading to the beat of their own drum. Fine by us from a hit and run standpoint long or short. We'll see about that though over the coming days.
In other words we need some chart time to see how things sort themselves out.  We've overall done a great job in the hit and run dept. long and short and that's where we want to keep our focus for the time being.
This all the while the indexes basically go nowhere. Sure they are at one month highs! Isn't that great? On the surface it sounds great (according to headlines that flash across the screen) but when you look at the daily charts we are right back to where we were a little over 4-5 months ago depending upon what index one looks at — hence NOWHERE.
Can you see why we are more interested in hit and run and why you should be too?
We try to make it really simple for you to profit in the market from our service.
1. Each trading day and weekend we give you an overview of the markets and a game plan to profit from it.  These are simple charts that are easy to read and see where support is, where resistance is and what to do when stocks hit either level.
2. Based on that plan, we have a watch list of stocks and when a stock triggers a trade, we issue a Trade Trigger email alert followed by a Locking In Gains email alert.  We even break out suggested share allocations for portfolio sizes of $25,000, $50,000 and $100,000 to make it easy for you to practice risk management and not let your emotions control your trading.
3. We have a INO members-only special where you get to profit with us just $19.99/month vs. our standard price of $29.99/month.
To take advantage of this special offer, sign up here.
THESE ARE NOT BUY RECOMMENDATIONS! Comments contained in the body of this report are technical opinions only. The material herein has been obtained from sources believed to be reliable and accurate, however, its accuracy and completeness cannot be guaranteed. All About Trends reserves the right to refuse service to anyone at anytime for any reason. Allabouttrends.net is not an investment advisor, hence it does not endorse or recommend any securities or other investments. Any recommendation contained in this report may not be suitable for all investors and it is not to be deemed an offer or solicitation on our part with respect to the purchase or sale of any securities. All trademarks, service marks and trade names appearing in this report are the property of their respective owners, and are likewise used for identification purposes only. The member/subscriber agrees that he/she alone bears complete responsibility for his/her own investment/trading decisions. Allabouttrends.net shall not be liable to anyone for any loss, injury or damage resulting from the use of any information. Trade at you're own risk, this information is strictly for educational and informational purposes only. Allabouttrends.net assumes NO responsibility whatsoever for any losses experienced by anyone who uses its educational materials to make financial decisions. All charts courtesy of stockcharts.com .