Each week Longleaftrading.com will be providing us a chart of the week as analyzed by a member of their team. We hope that you enjoy and learn from this new feature.
GOLD REPORT FOR WEEK BEGINNING JULY 23rd

 As we wind down the month of July, it should be noted that the trading ranges over the last two months have grown more and more narrow. In June, Gold prices traded within May's range and thus far in July, Gold prices have traded within June's range. This type of price action is fairly normal this time of year in the precious Metals, but traders are trying to figure out what will drive prices out of the narrowing range.
Last week's chop in the Gold market caught me by surprise, I must admit. The US Dollar spent most of the week heading lower, and many of the major markets looked very strong, especially commodities. The Grain and Crude Oil futures reminded me of charts that we traded during the QE days. Yet, precious metals were nothing more than lackluster.
We heard news from Ben Bernanke that led traders to believe that despite no imminent plans of easing from the FED, that there was still hope of participation coming soon. Traders speculated that perhaps we would hear about the possibility  of additional asset purchases or maybe even a reduction of interest rates on bank reserves held at the FED. Additionally, there was the chance that last week's LIBOR Scandal could have produced "flight to safety" buying. But Gold still maintained an unbiased trade.
As we enter this week on a sour note across the board, I will lean on technical trading. Fundamental data over the last several weeks that was convincing for other major markets could not help Gold produce a directional move. This is why I will look to the daily chart for clues.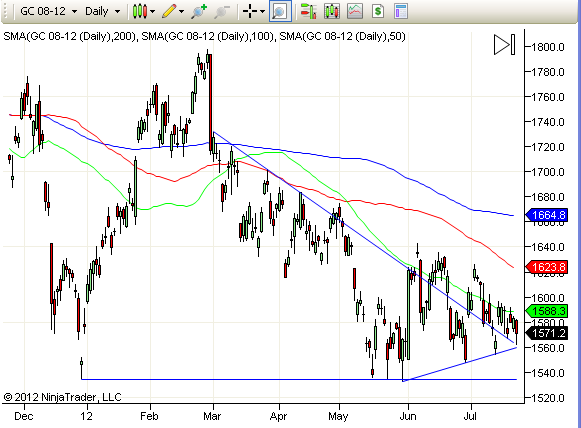 The chart above is a daily chart of August Gold Futures. The first point of interest is today's low in Gold. The red arrow on the chart shows the convergence of two major trendlines, which stopped sellers in their tracks. It will be important in this week's trade for Gold to hold this line in the sand. Technically, a failure here would suggest a retest of the May lows around $1530, and below that price, there would likely be very heavy selling pressure. If the market can hold today's  low, I believe the first target to the upside would be the 50day moving average (green line), then an even price of $1600. Closes above $1600 would be a very welcome sign for Gold Bugs, but this will be no easy task against a very strong US Currency to begin the week.
Good luck this week in the markets. And please feel free to call or email my office. As a Senior Market Strategist with Long Leaf Trading, I advise customers in the futures markets and welcome any input from fellow traders. I can be reached toll free at (888) 272-6926 or by email at [email protected]
Thank you for your interest,
Brian Booth
Senior Market Strategist
888.272.6926