We've asked our friend Jim Robinson of profittrading.com to provide his expert analysis of charts to our readers. Each week he'll be be analyzing a different chart using the Trade Triangles and his experience.
Today he is going to take a look at the technical picture of Wheat (ZW.Z12.E)
I hope you had a GREAT week !! Wheat made a strong bull swing in June and July and has since been in a sideways consolidation.
The consolidation looks to be forming a classic Head and Shoulders base pattern and if Wheat trades higher from here that would be a breakout of the neckline.
A Head and Shoulders pattern is not a completed pattern until there is a breakout of the neckline.
MarketClub went on a monthly green Trade Triangle on 05/20/12 which means the longer term monthly trend is up.
MarketClub is currently on a red weekly Trade Triangle which probably reflects a counter trend correction.
If Wheat trades higher from here, as expected, and puts in a green weekly Trade Triangle that would turn the picture extremely bullish picture for Wheat.
The MACD isn't on a buy signal yet, but would go on a buy signal if Wheat trades higher. The MACD is always a good technical indicator to be keeping an eye on.
Wheat looks to be in a bull market so this is definitely a Chart to Watch !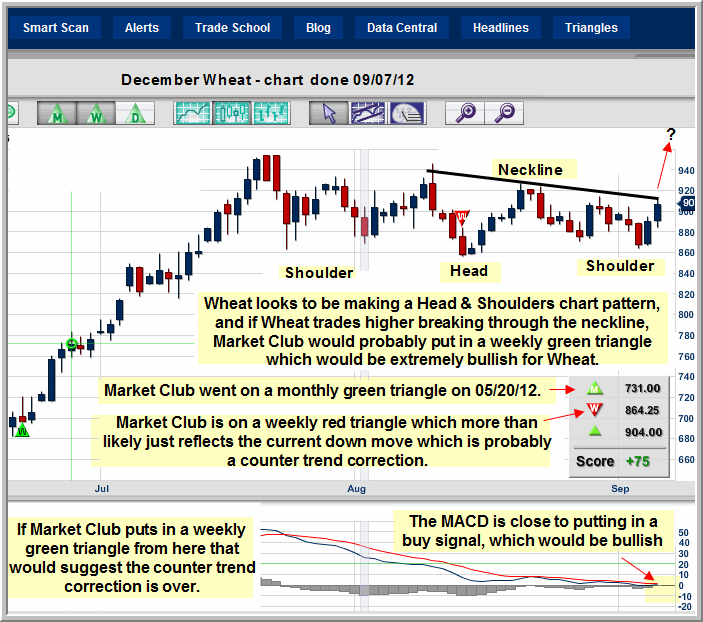 Thanks,
Jim Robinson
Profit Trading.com