Each week Lo

ngleaftrading.com will be providing us a chart of the week as analyzed by a member of their team. We hope that you enjoy and learn from this new feature.
Weekly Gold Report (October 1st through October 5th)
"Better late than never" comes to mind as I prepare this week's Weekly Gold Report. Just as I sat down to capture the weekly chart for December Gold, the market erupted after another perfectly timed announcement from a US FED official.
After dismal news from the European Manufacturing sector overnight, a European Union Commissioner made upbeat remarks about Spain, followed by FED member Charles Evans stating that he would like to see "Operation Twist" continue past the December 2012 deadline and go on for another calendar year. The remarks from Olli Rehn in Europe and supportive comments from Evans in the US were enough to offset the worst Manufacturing number that Europe has seen in three months.
Last week, Gold prices took a continued breather after QE3 news in the United States the prior week. I was surprised that the markets was unable to hit $1800 an ounce after Spain released their banking data, which suggested that their recapitalization needs were in line with expectation. I expected the pullback we experienced last week after Philly FED member, Plosser announced he was not thoroughly excited about another round of Quantitative Easing, would be quickly bought. I thought Spain's banking announcement would be enough to offset Plosser's negativity and drive Gold to near $1800 an ounce, but my idea fell just short of expectation by the end of the week. Nonetheless, the Gold rallied this morning to just a few dollars short of my expected target. Better late than never.
This week is very important as the market will see Interest Rate decisions in Australia, England, and in Europe before the week is over. By the end of the day on Thursday, we will know if the Euro can stay underpinned and help the rally in the Gold continue. There is some speculation that the ECB may again lower Interest Rates to another record low of .5% by the end of the year. Whether it happens this month or not, is the question.
I believe that the ECB will make supportive remarks on Thursday along with England and the rallies in the respective Currencies will put pressure on the US Dollar, which will favor Gold. I expect the Gold futures to hover around $1800 until we get the final decision in Europe on Thursday. I expect the strength to continue today, followed by choppy trading on Tuesday and Wednesday, and a rally on Thursday which will target $1825 in the December Futures. If the ECB announces an Interest Rate cut, I expect Gold futures to trade even higher than $1825.
If The BOE and the ECB disappoint this week, I would expect a correction in Gold and other Precious Metals, and would look for any drops in prices to pause for buyers in $25 increments below $1800. I think that it is important for the BOE and the ECB to maintain order in the markets this month before the election in the United States. I do not see either of them doing anything that would deflate the markets and undercut the US FED's Quantitative Easing Decision before our November Elections.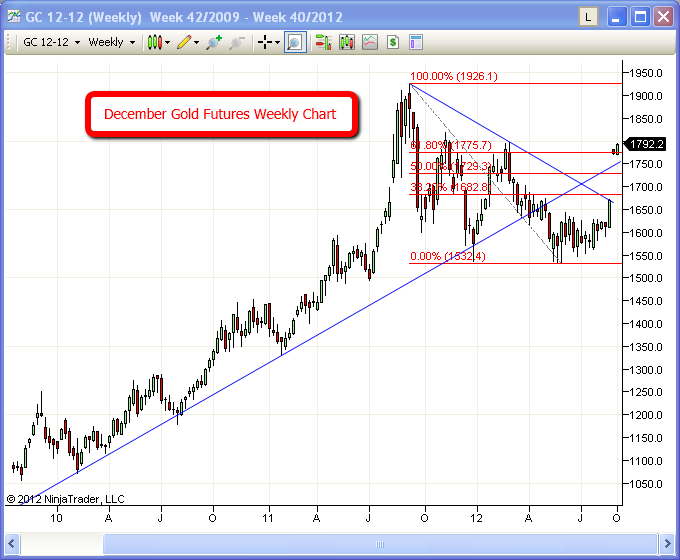 Good luck this week and as always, feel free to contact me directly if you wish to discuss this article or discuss trading in general. I would be happy to hear your thoughts, and also to share specific ideas as the market moves throughout the week. I can be reached by email at bbooth@longleaftrading.com or by phone at (888) 272-6926.
Thank you for your interest,
Brian Booth
Senior Market Strategist
bbooth@longleaftrading.com
888.272.6926