HEALTHY CONSOLIDATION OR DEEPER CORRECTION AHEAD?
The month of October has not been kind to Gold & Silver Bulls as the markets have continued to breakdown, ending a lackluster week with an especially weak close.
The inability or failure to take out the Bears' Concrete Ceilings of resistance at $1800 Gold and $35 Silver has weighed heavily on the Bulls as this consolidation is wringing out any excessive bullish sentiment from these heavy metals, hard currencies.
Let's take a quick look at how far (and how fast) these markets have recently fallen off their most recent highs:
DECEMBER GOLD (GCZ2)
1798.1 HIGH (10/01/12)
1714.4 LOW (10/22/12)
DOWN -$83.7 PER OZ (-4.6%)
DECEMBER SILVER (SIZ2)
35.445 HIGH (10/01/12)
31.710 LOW (10/22/12)
DOWN -$3.735 PER OZ (-10.5%)
Despite the spooky drop, it is instructive to take a step back and view the landscape (pullback) in larger context: Since the Summer Doldrums/June lows were put in at $1528 Gold and $26.21 Silver, they've both put up massive runs to the upside Gold rallied +$270 an ounce ( up+ 17%) and Silver tacked on +$9.44 (up +36%).
Will this week's FOMC meeting provide the spark required to ignite a new Bull rally into November? Or will the Bears extend and strengthen their chokehold as they seek to exact as much revenge as possible on those longs who believe(d) QE3/INFINITY was a Green Light for much higher prices?
Historically speaking, October has seasonally been one of the worst performing months for Gold and Silver. IF the Bulls can stop the bleeding here, November is just around the corner and has typically been the BEST performing month for price. I'm of the opinion that this downturn is only a temporary consolidation to remove the short-term overbought condition (and weakest longs ie Small Specs) from the futures markets.
Please refer to the charts below for further commentary and analysis.
*Look for email alerts/market updates should conditions warrant or if/when environment allows
IMPORTANT UPCOMING DATES ON THE CALENDAR THIS WEEK/NEXT WEEK:
TUESDAY 10/23/12 & WEDNESDAY 10/24/2012
US Federal Open Market Committee (FOMC) Meetings
WED 11:30AM (CT) FOMC Interest Rate/Monetary Policy Statement Release
WED 1:00PM (CT) FOMC Inflation/Economic Growth Projections Statement Release
WED 1:15PM (CT) Federal Reserve Chairman, Ben Bernanke Statement + Q&A Session
THURSDAY 10/25/2012
NOVEMBER SILVER (SIX2) OPTIONS EXPIRATION/LAST TRADING DAY
NOVEMBER GOLD (GCX2) OPTIONS EXPIRATION/LAST TRADING DAY
MONDAY 10/29/2012
OCTOBER SILVER (SIV2) FUTURES EXPIRATION/LAST TRADING DAY
OCTOBER GOLD (GCV2) FUTURES EXPIRATION/LAST TRADING DAY
WEDNESDAY 10/31/2012
NOVEMBER GOLD & SILVER (GCX2 & SIX2) FUTURES - FIRST NOTICE DAY (FND)
Any long November Gold/Silver futures position holders must exit/liquidate their open positions PRIOR to FND (ie before the CLOSE of trading on Tuesday 10/30/2012) unless they intend to Stand For Delivery as that is when the CME/COMEX can begin assigning deliveries to those long futures contract holders.
ROLLOVER IN ANTICIPATION OF FIRST NOTICE DAY (FND), TRADING VOLUME & OPEN INTEREST HAVE ALREADY MIGRATED TO THE DECEMBER FUTURES CONTRACT (GCZ2 & SIZ2)
DECEMBER GOLD (GCZ2) WEEKLY CHART
DECEMBER SILVER (SIZ2) WEEKLY CHART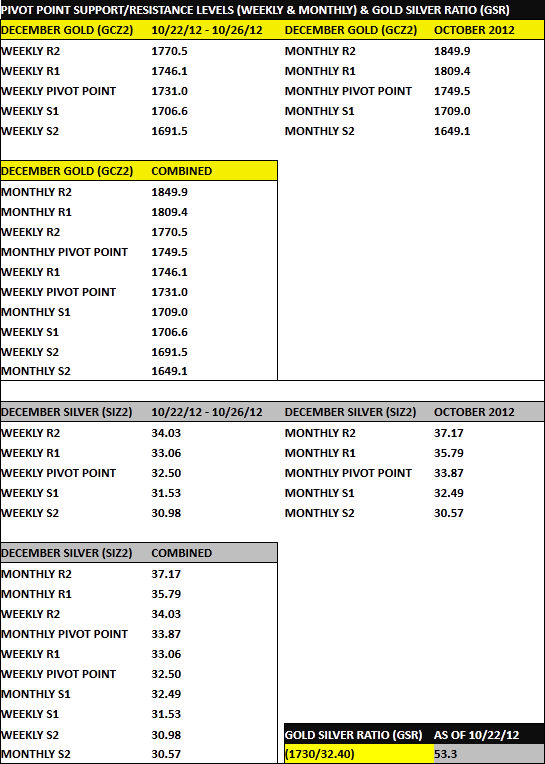 Subscribe to The Gold & Silver Speculator Absolutely Free!
This is a sample of the analysis from my weekly precious metals market commentary newsletter, The Gold & Silver Speculator. Register now to receive the most relevant investment information and trading tools to participate in the gold and silver markets!
Author: Kurt Pfafflin