We've asked our friend Jim Robinson of profittrading.com to provide his expert analysis of charts to our readers. Each week he'll be be analyzing a different chart using the Trade Triangles and his experience.
Today he is going to take a look at the technical picture of December Copper (HG.Z12.E).
I hope you are having a GREAT week !
This week we will take a look at December Copper, as it looks to definitely be a Chart to Watch right now!
The monthly MarketClub Trade Triangle is green which means the monthly time frame is bullish.
Copper looks to be forming a Head and Shoulders base, and if it breaks out to the upside MarketClub will put in a green Trade Triangle on the weekly time frame.
When all the Trade Triangles are pointing in the same direction odds are in favor of the market continuing in that direction.
MarketClub will often turn bullish just as a market is breaking out to the upside of a classic base pattern.
That is something to always keep an eye out for, as that is very important information to have!!
The MACD is on a buy signal which adds to what looks to be a very bullish chart shaping up for Copper and MarketClub is right on top of things - as usual!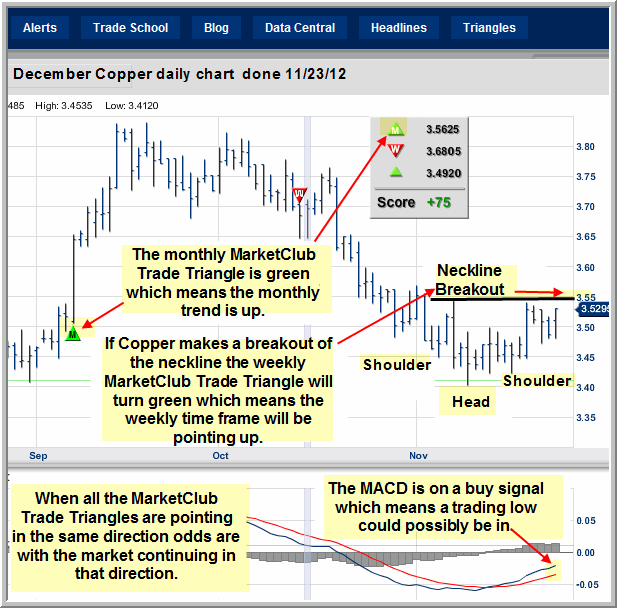 Thanks,
Jim Robinson
Profit Trading.com