We've asked our friend Jim Robinson of profittrading.com to provide his expert analysis of charts to our readers. Each week he'll be be analyzing a different chart using the Trade Triangles and his experience.
Today he is going to take a look at the technical picture of Green Mountain Coffee Roasters Inc. (GMCR).
I hope you are having a GREAT week !
This week let's take a look at a very Hot Stock Chart !!
GMCR put in a low the last couple weeks in July of this year, then made a strong bull swing in which MarketClub put in a monthly green Trade Triangle which was very important and bullish information to have.
Stocks will almost always come back to test the low and when GMCR tested the low MarketClub went on a red weekly Trade Triangle as GMCR made a higher low.
When the test of the low was complete GMCR started on the next bull move higher and MarketClub put in a weekly green Trade Triangle alerting us that all time frames were now pointing up, which again is very important information.
As they say, the rest is history, as GMCR exploded higher in a strong burst of buying which means GMCR is in strong demand.
I think it is safe to say, that GMCR is definitely a Chart to Watch, as GMCR is in an up trend and the MarketClub Trade Triangles are pointing up.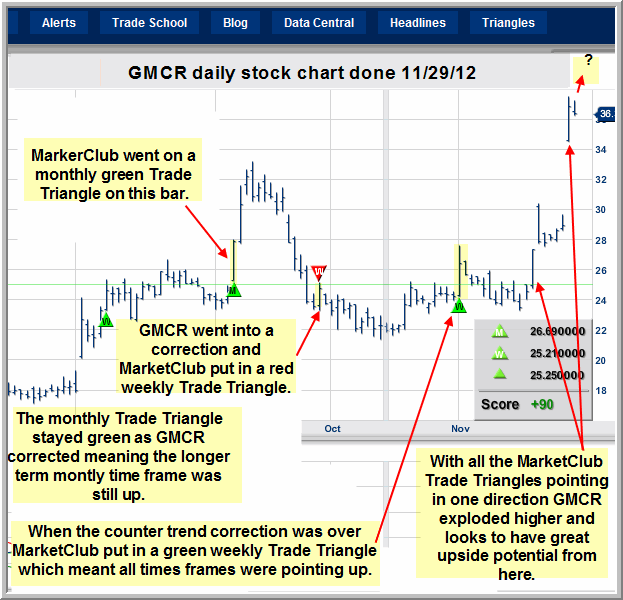 Thanks,
Jim Robinson
Profit Trading.com