We've asked our friend Jim Robinson of profittrading.com to provide his expert analysis of charts to our readers. Each week he'll be be analyzing a different chart using the Trade Triangles and his experience.
Today he is going to take a look at the technical picture of Spectrum Pharmaceuticals, Inc. (SPPI).
As always I hope you are having a GREAT week !
This week let's take a look the MarketClub chart of SPPI.
SPPI made a new price low on a bullish MACD divergence, which is the way trading lows often happen.
Since the bullish divergence the MACD has continued higher and has crossed above the zero line, which is bullish technical action.
SPPI looks to be forming a classic Head and Shoulder's chart pattern.
If SPPI breaks out above the neckline, that would be more bullish evidence, that SPPI may have put in a low, and is probably heading higher.
I've mentioned a number of times in my write ups that the MarketClub Trade Triangle's often put in very timely signals with classic chart patterns.
I think this is another great example of that, as the weekly and monthly Trade Triangles are pointing up and have turned green before SPPI has made the neckline breakout.
So that is very important bullish information to have, if SPPI does end up breaking through the neckline, as expected.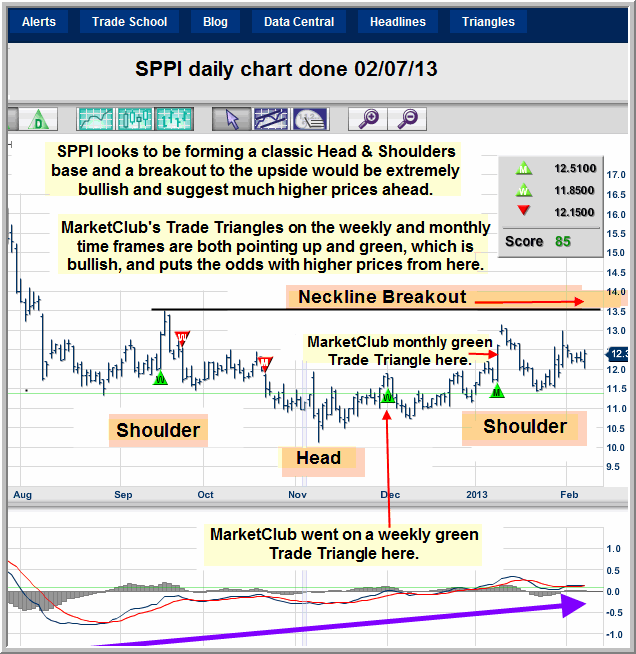 SPPI definitely is a Chart to Watch, as higher prices may be ahead for this stock !!
Thanks,
Jim Robinson
Profit Trading.com