We've asked our friend Jim Robinson of profittrading.com to provide his expert analysis of charts to our readers. Each week he'll be be analyzing a different chart using the Trade Triangles and his experience.
Today he is going to take a look at the technical picture of the EURUSD Forex pair (EURUSD).
I hope you are having a GREAT week !!!
The EURUSD is moving higher, so let's take a look at the EURUSD chart this week.
With Forex we use the weekly MarketClub Trade Triangle for trend, and the daily MarketClub Trade Triangle for timing. With the recent big move higher, the monthly Trade Triangle is green and that is added confirmation that the EURUSD, might continue higher from here.
The MarketClub score of +100 is bullish and the MACD is on a buy signal, so all systems are GO for higher prices.
Even with the picture looking extremely bullish, we still have to follow the MarketClub rules when trading the triangles and not let our emotions get carried away.
If we were to go long the EURUSD we would still have to use our money management techniques, because what looks like a sure thing can often turn into a failed breakout.
That's what I like about the MarketClub system, we let the market decide what our next move is and that way our emotions won't take over, as long as we stick to the rules.
So the EURUSD is definitely a Chart to Watch right now, and as trader's what do we do from here in the EURUSD, if we want to trade it right now ?
The answer is easy, follow the MarketClub system !!!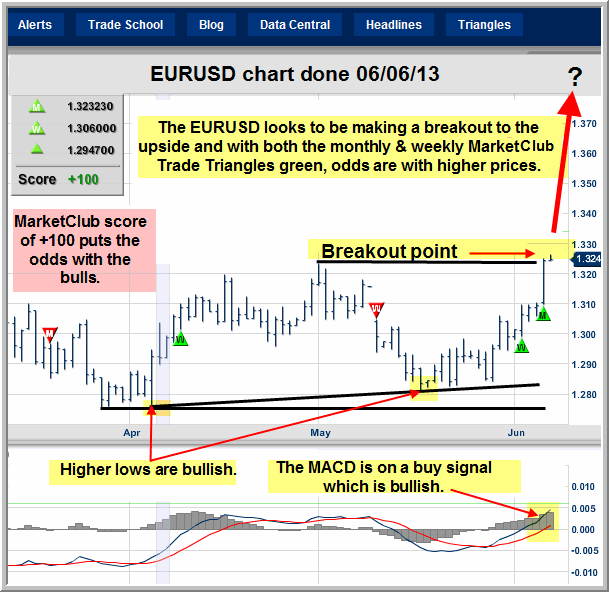 Thanks,
Jim Robinson
Profit Trading.com