We've asked our friend Jim Robinson of profittrading.com to provide his expert analysis of charts to our readers. Each week he'll be be analyzing a different chart using the Trade Triangles and his experience.
Today he is going to take a look at the technical picture of F5 Networks, Inc. (NASDAQ_FFIV).
This week we'll look at the stock chart of FFIV.
When trading stocks we use the monthly MarketClub Trade Triangle to tell the trend of the stock, and the weekly MarketClub Trade Triangle to time the trades.
Right now FFIV is on a green monthly Trade Triangle which means the stock is in an up trend.
FFIV is on a red weekly Trade Triangle reflecting the current down move, which is more than likely, a counter trend correction within the larger up trend.
If FFIV trades higher from here and puts in a green weekly MarketClub Trade Triangle, that would be a buy signal with the MarketClub system, since the monthly and weekly Trade Triangles would both be green.
FFIV put in a high of 145.76 in January of 2011, so there is a lot of upside potential for this stock.
I would not be surprised to see FFIV eventually trade above the old high if every thing goes well for the companies earnings, and the general market stays bullish.
FFIV is an excellent Chart to Watch right now, because it looks like higher prices might be on the way.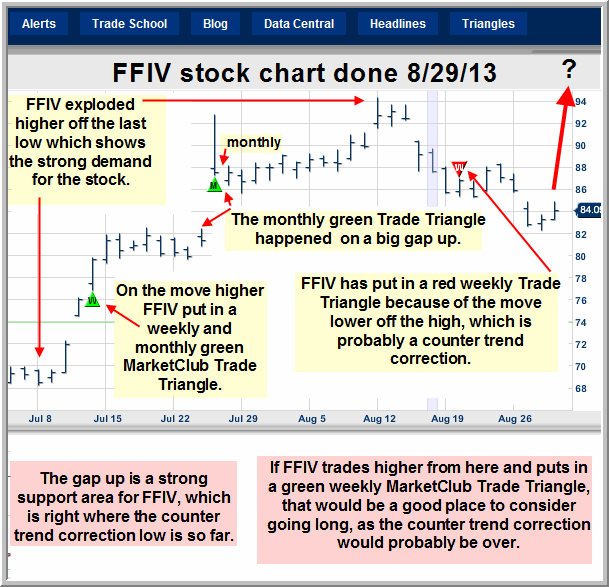 Thanks,
Jim Robinson
Profit Trading.com