We've asked our friend Jim Robinson of profittrading.com to provide his expert analysis of charts to our readers. Each week he'll be be analyzing a different chart using the Trade Triangles and his experience.
Today he is going to take a look at the technical picture of Skyworks Solutions Inc. (NASDAQ_SWKS).
I hope you are having a GREAT week !!!
This week let's take a look at the monthly stock chart of SWKS.
When trading stocks with the MarketClub system we use the monthly MarketClub Trade Triangle to tell trend and the weekly MarketClub Trade triangle to time the trade.
With a MarketClub score of +100, right now all 3 Trade Triangles pointing up.
SWKS has put in a long base, so long that I used a monthly chart to show SWKS instead of the daily chart we usually look at.
Long bases are not uncommon in stock uptrends and often lead to the next big trend move higher, which is what the technical indicators show has a good chance of happening with SWKS.
If SWKS does trade higher from here and makes a strong breakout above $25.00 that would be more evidence that the buyers have won the battle and SWKS could be off to the races on the upside.
All systems are GO for possible higher prices making SWKS a great Chart to Watch right now.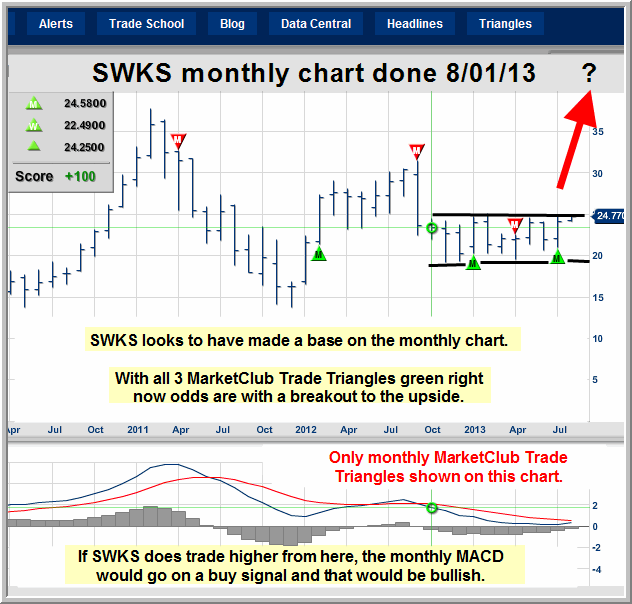 Thanks,
Jim Robinson
Profit Trading.com