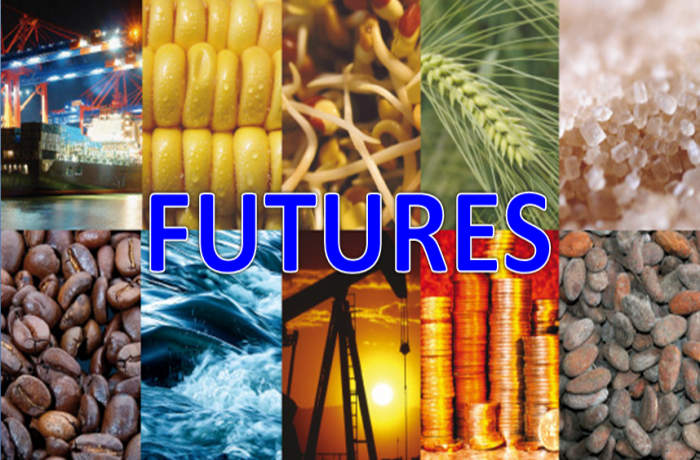 We've asked Michael Seery of SEERYFUTURES.COM to give our INO readers a weekly recap of the Futures market. He has been Senior Analyst for close to 15 years and has extensive knowledge of all of the commodity and option markets.
Michael frequently appears on multiple business networks including Bloomberg news, Fox Business, CNBC Worldwide, CNN Business, and Bloomberg TV. He is also a guest on First Business, which is a national and internationally syndicated business show.
Grain Futures-- The grain market continues its extreme volatility especially in soybeans up another $.40 this Friday right near contract highs at 13.26 a bushel all due to the fact that the crop is not very good despite heavy rains across much of the Midwest yesterday especially in Illinois but production in Iowa is dismal with a worse crop than the 2011 floods and the 2012 drought which is absolutely astonishing in my opinion, and it looks to me that these prices are headed higher. As I've stated in previous blogs the trade that is been working is to be long soybeans & short corn and wheat and its working again as the real strength is and soybeans as corn is still going to have a terrific crop and if wheat could talk it would bark that's how big of a dog this market is only up $.04 today at 6.44 only $.05 away from making new contract lows as the fundamentals in wheat are much different than in soybeans. Corn futures are up $.06 at 4.71 basically going nowhere in recent weeks after Thursday's debacle down $.19 due to the heavy rains and it looks to me that corn and wheat will remain weak for quite some time as the possibility of soybeans continuing towards the $14 mark looks pretty good and if you look at soybean meal prices they have hit contract highs once again as massive demand for that product continues to prop up prices towards historical highs. I've been recommending buying the oat market which I don't talk about a whole lot but I believe it has excellent chart structure and I do believe prices are headed higher finishing right around 3.31 a bushel in a pretty lack luster trade this week but if you have a smaller account or even a large account you are only risking around $600 per contract on this trade & whenever the risk reward is in your favor I always take that trade regardless of what I think. One lesson to remember is the fact that I was short soybeans for such a long period of time and I was stopped out at the 10 day high which was 12.21 which was almost 2 weeks ago and that is why you use stop losses because now were at 13.26 and what a debacle that would've been if I stayed in this trade and many people probably did & that is why you have to use the 2% rule on your account balance as a risk tool and you have to have an exit strategy & my exit strategy if I'm short to put a stop at the 10 day high regardless of what you think of the market because you must exit and move on and I did and I didn't turn this trade into a loser or a tremendous loser which it would have become. Another lesson to learn here is you never add to a loser if people have been adding short positions to this market on the way up they are getting absolutely crushed so remember when trades go against you make sure you just put a stop and you never add any more contracts because of the fact that you are wrong because you only add contracts when you are right. TREND: HIGHER IN SOYBEANS –CHART STRUCTURE: AWFUL
Precious Metal Futures-- The precious metals have skyrocketed this Friday afternoon with gold right at new highs up $25 at 1,396 an ounce hitting an 8 week high and as I wrote in previous blogs I am recommending to get out of the metals because I do believe with higher interest rates coming that prices will head lower but I'm not recommending a short position just if you are long I would take profits and sit on the sidelines and wait to see what develops as many of the commodity markets were sharply higher this Friday afternoon. Silver futures which I have been recommending a long position for quite some time and now I want traders to sit on the sidelines up another $.72 at 23.79 as the bullish momentum does continue, but with very poor chart structure at this time I still think that prices are due for a correction. Copper prices were up 200 points basically really the lack luster trade this week at 3.35 a pound as the stock market continues to head higher with solid Chinese demand at this point pushing up prices, but at this point in time I'm still recommending to sitting on the sideline in copper and take profits but don't go short and see what develops over the next couple of weeks. The U.S dollar has been rising in recent days due to the fact that interest rates have been going up and that is pessimistic commodity prices but on a day like today sometimes things just happen & prices go up for no reason. TREND: HIGHER –CHART STRUCTURE: EXCELLENT
Cotton Futures-- Cotton futures had one of its worst weeks in recent history with an excellent crop starting to develop trading far below its 20 and 100 day moving average settling last Friday 93.32 which was right at contract highs finishing down almost 900 points with back-to-back limit downs on Wednesday and Thursday trading at 84.05 at this point in time as I'm neutral this market as there is no trend and its trading near major support. The chart structure in cotton is absolutely atrocious and I would avoid this market like the plague as high production in India and the U.S has put massive pressure on prices this week also due to the fact that China might be selling some of its reserves which also is putting pressure on this market and if prices do break 83.00 I would be recommending a short position, however this market is not for the faint of heart due to the fact that there is no chart structure because the 10 day high is 93.32  risking over $5,000 per contract if that level is broken so at this point in time sit on the sidelines and hopefully wait for some type of chart structure to develop before entering unless you are trading a very large account where $5000 is still less than 2% of the total balance. I hate markets that go straight up and straight down and this is one of those markets like soybeans in the last couple of weeks so I try to avoid these markets & I can't stress this enough to other traders to do the same because you will get whipsawed to death as chart structure is the most important trading indicator in my opinion. TREND: NEUTRAL –CHART STRUCTURE: TERRIBLE
Coffee Futures-- Coffee futures continued their grinding bearish momentum hitting 4 year lows settling last Friday at 123.65 currently at 117 down over 600 points this week with excellent chart structure and a very large crop in Brazil keeping a lid on prices at this time. The real story in coffee is that the REAL which is their currency hit new lows against the U.S dollar and that is the reason why you've seen anything grown in Brazil headed lower such as sugar and coffee. At this point in time I think coffee is headed to 110 possibly next week or in the next couple of weeks. I would have to start recommending buying coffee at the 100 level if it gets their because we are starting to get very cheap as many of the commodity markets have started to bottom but it is very difficult to pick a bottom in any market. In my entire career I've never picked a bottom but I have come close sometimes but I do think coffee is headed lower but you're squeezing blood out of a turnip at these levels so in my opinion if prices do get down at 100 level I would be a buyer of this commodity if you're a longer-term investor because remember the fact that coffee was at 300 just 3 years ago. TREND: LOWER –CHART STRUCTURE: EXCELLENT
Sugar Futures-- Sugar futures continue to go nowhere on the daily chart as good weather has been beneficial for the harvest in Brazil while prices are still trading below their 20 and 100 day moving average & as I stated in last Friday's blog I was a buyer of sugar putting a stop at 16.50 risking around $500 a contract and that trade was a loser, however I don't mind losing small amounts and that is exactly what happened but when your risk reward situation is excellent in my opinion you always take that chance. This market at this time I would be sitting on the sidelines again waiting for some type of trend to develop with sugar futures settling last Friday at 16.94 currently are at 16.46 down about 50 points with very low volatility still right near 3 year lows and almost has the same characteristics as the coffee market as there is really no positive fundamental news to prop up prices at this time except for the fact that crude oil prices are right near recent highs which generally can support sugar prices because sugar is used as bio diesel but we just have huge supplies at this time and with rising interest rates in the United States I still believe that commodity prices are too high. TREND: NEUTRAL –CHART STRUCTURE: EXCELLENT
Trading Rules-- This rule is extremely important and I witness it being abused constantly creating tremendous loses that are sometimes difficult to come back from. Never add to a losing position because if the position continues to go against you and now you have added even more contracts which are all losing money your account will suffer loses much more than 2% and in some case adding positions and never getting out of a losing trade has wiped peoples trading accounts down to zero because of 1 or 2 bad trades. Remember always play for another day you will have losing trades and the good traders manage losses and move on to the next possible trade.
What do I mean when I talk about chart structure and why do I think it is so important when deciding to enter or exit a trade?-- I define chart structure as a slow and grinding up or down trend with low volatility and no chart gaps. Many of the great trends that develop have very good chart structure with many low percentage daily moves over a course of at least 4 weeks thus allowing you to enter a market and allowing you to place a stop loss with will be relatively close due to small moves thus reducing risk. Charts that have violent up and down swings are not considered to have solid chart structure but markets that continue to trend like the current soybean complex allowing for you to place close stops as it continues to fall dramatically. I always like to place my stops at 10 day highs or 10 day lows and if the charts have a tight pattern that will allow the trader to minimize risk which is what trading is all about and if the chart has big swings your stop will be further away allowing the possibility of larger monetary loses.
If you are looking for a futures broker feel free to contact Michael Seery at 800-615-7649 and he will be more than happy to help you with your trading or visit www.seeryfutures.com
There is a substantial risk of loss in futures, futures option and forex trading. Furthermore, Seery Futures is not responsible for the accuracy of the information contained on linked sites. Trading futures and options is Not appropriate for every investor.
Michael Seery, President
Seery Futures
Twitter–@seeryfutures
Phone # (800) 615-7649