We've asked our friend Jim Robinson of profittrading.com to provide his expert analysis of charts to our readers. Each week he'll be analyzing a different chart using the Trade Triangles and his experience.
Today he is going to take a look at the technical picture of the Arm Holdings (NASDAQ:ARMH).
I hope you are having a GREAT week !
This week we'll take a look at the stock chart of ARMH.
With stocks we use the monthly MarketClub Trade Triangles to tell the trend and the weekly MarketClub Trade Triangles to time the trade entry points and stops.
ARMH has been in a counter trend correction since the middle of May.
The counter trend correction is probably over with and ARMH has probably started another bull move higher on the breakout of the Cup with Handle base.
Right now the MarketClub score is +100 which means ARMH is in a strong up trend, and all three time frames daily, weekly, monthly are on green MarketClub Trade Triangles right now.
If ARMH does continue higher and trades above the last pivot high that will be more confirmation that ARMH is probably headed higher.
ARMH looks to have great upside potential and is definitely a Chart to Watch right now.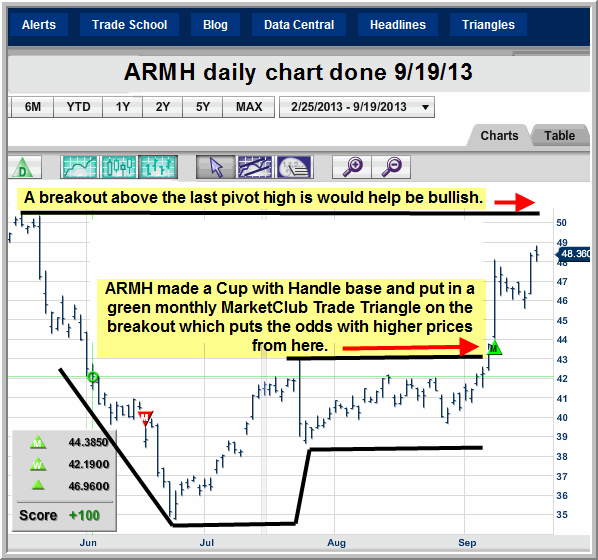 Thanks,
Jim Robinson
Profit Trading.com