Halloween costumes and confectionery sales move into high gear tonight as millions of children will dress up and go trick-or-treating.
I thought it would be fun to take a look at the sweet side of the market and pick out some "sweet" stocks for you.
I have three stocks to satisfy your sweet tooth today:
Nestlé SA (NASDAQ:NSRGY)
Hershey Co (NYSE:HSY)
Mondelez Intl (NASDAQ:MDLZ)
All three stocks are in a positive mode based on the Trade Triangle technology and look to go higher.
The stock I'm analyzing in detail is Nestlé SA (NASDAQ:NSRGY).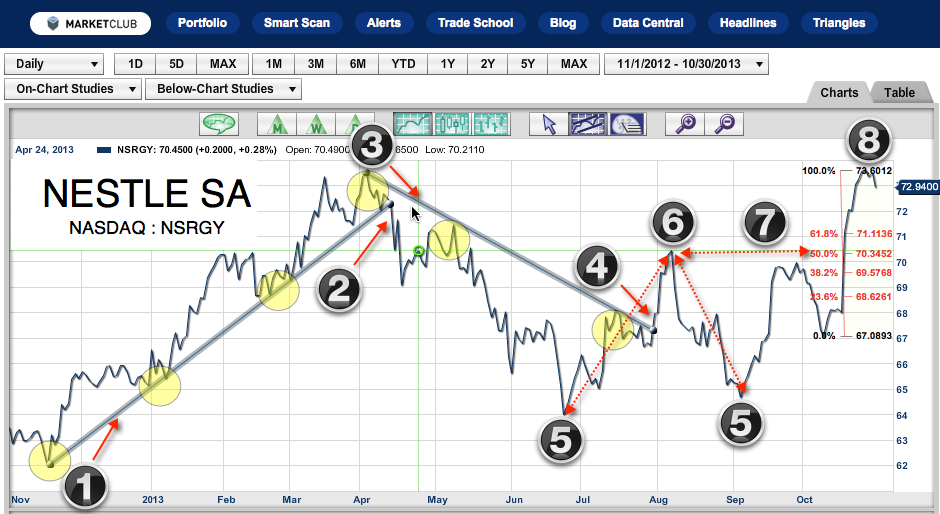 1. Classic Uptrend Line
2. Break of Uptrend Line
3. Classic Downtrend Line
4. Break of Downtrend Line
5. Double Bottom
6. Pivot Point
7. Resistance Now Support
8. Potential Fibonacci
At the moment, it would appear as though there is some resistance for Nestlé SA (NASDAQ:NSRGY) around the $74 level. Previously in April this level proved to be a challenge as Nestlé fell back to just below the $65 level before regrouping and making a double bottom (see number 5 on the chart). After creating the double bottom, the stock then moved over the pivot point (number 6 on the chart) indicating that higher levels were ahead. The technical count from the double bottom to the pivot point is $75.
What I suspect could happen now is a pullback from the number 8 area on the chart, back down to the pivot point (number 6), which also represents a 50% Fibonacci retracement.
The Trade Triangle technology has performed very well with the latest buy signal based on our monthly Trade Triangle coming in on 10/17 at $70.83.
With both the intermediate and longer-term Trade Triangles positive, I see no reason not to stay long this stock. If I see a Fibonacci correction back to the $70.50 level, I would view this as a low risk entry point with appropriate money management stops.
Should we see a Fibonacci retracement to the $70.50 area and then see this stock move through the $74 level, that would make the upside target $83 for Nestlé SA (NASDAQ:NSRGY).
Happy Trick or Treating,
Adam Hewison
President, INO.com
Co-Creator, MarketClub