It has been a little over 11 months since the first major buy signal in Netflix (NASDAQ:NFLX) at $84.95 on December 4, 2012. I have remained bullish on the stock since that time, which turned out to be one of the best trades for the year so far.
Today I would like to share with you how to use the Relative Strength Index (RSI) to enter a position in any up-trending stock. When a stock pulls back, it is difficult to know how far that stock will fall. This is where the RSI comes in and can be an enormous help. When the indicator moves over 70, it is considered overbought and conversely when the indicator moves below 30, it is considered oversold. This was the original thesis of Welles Wilder when he developed the RSI back in the mid-70s. Later it was discovered that when a stock pulls back to the midpoint of 50 or just below, it actually finds support.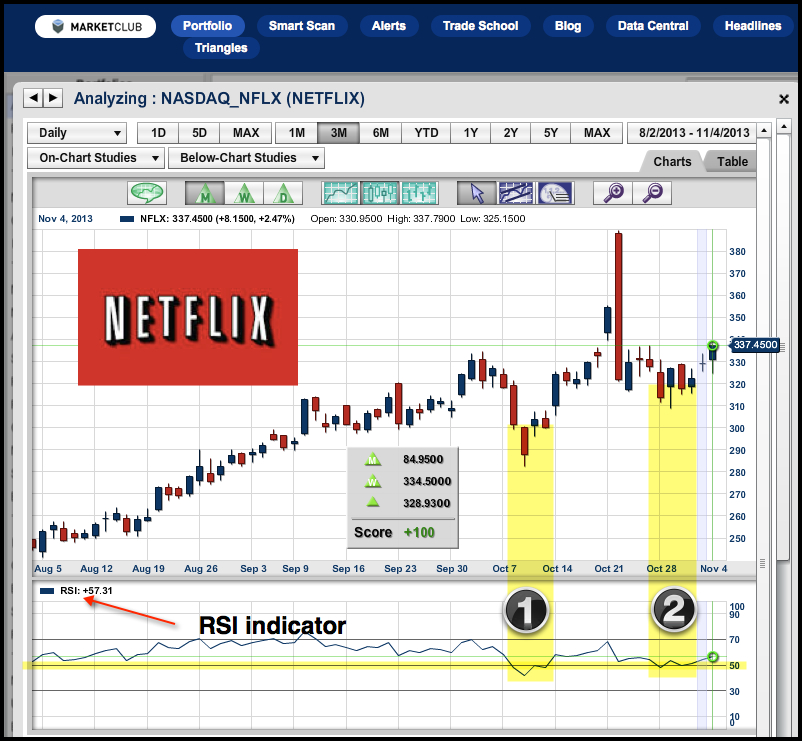 In my Netflix (NASDAQ:NFLX) example, I have highlighted both the price and the RSI support in yellow. The horizontal line at 50 on the indicator is also highlighted in yellow. As you can see on the chart, Netflix fell back to support twice during the last four months. Each time the RSI touched or moved just below the 50 line, it found support and made a strong recovery rally.
Yesterday, November 4th, Netflix (NASDAQ:NFLX) had its second highest close for the year. With all of the Trade Triangles positive on this stock, plus it has just come from an RSI support area (number 2), I expect to see this stock trend higher in the weeks ahead.
The moral of this post is, whenever you see a strong uptrend, you might want to check out the Relative Strength Index (RSI) for a low-risk entry point.
Adam Hewison
President, INO.com
Co-Creator, MarketClub