We've asked our friend Jim Robinson of profittrading.com to provide his expert analysis of charts to our readers. Each week he'll be analyzing a different chart using the Trade Triangles and his experience.
Today he is going to take a look at the technical picture of the Best Buy Co.,Inc. (NYSE:BBY).
I hope you are having a GREAT week! Best Buy Co., Inc. (NYSE:BBY) took off in January of this year and has for the most part not looked back making it one of this years biggest winners so far.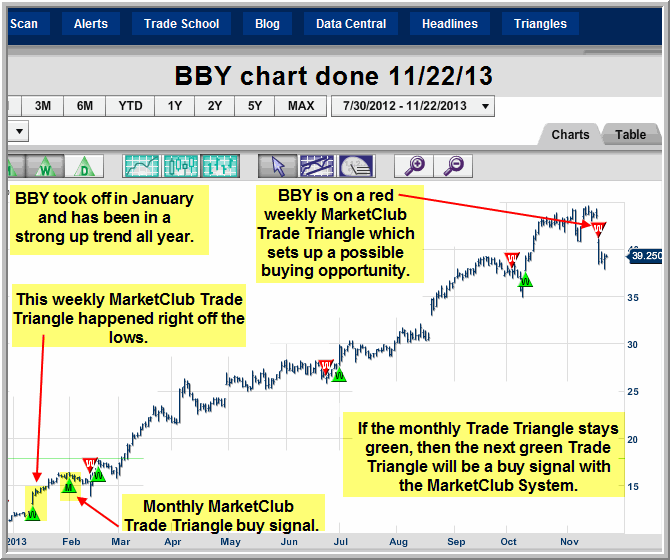 It is due for a larger counter trend correction which could have started with the current red weekly Trade Triangle.
With stocks you use the monthly Trade Triangles to tell trend and the weekly Trade Triangles to time the trades.
If the monthly Trade Triangle stays green as Best Buy Co., Inc. (NYSE:BBY) corrects lower, then the next green weekly MarketClub Trade Triangle will be a buy signal with the MarketClub system.
Best Buy Co., Inc. looks to have great upside potential making it a hot Chart to Watch right now.
Thanks,
Jim Robinson
Profit Trading.com