Each Week Lo

ngleaftrading.com will be providing us a chart of the week as analyzed by a member of their team. We hope that you enjoy and learn from this new feature.
Weekly Gold Report (November 25th through November 29th)
New highs were seen in US equities last week as investors continue to bank on the FED maintaining their participation, at least until the end of the year.
Due to the shortened Holiday week in the US, we expect lighter volume across the board in the futures markets. Anyone that has traded Holiday markets over the years knows that low volume trading can either bore a trader to tears, or leave markets vulnerable to volatile, directional movement. Being aware of the potential for either scenario is important this week, and making arrangements for either is smart.
Because of the shortened schedule, economic figures from the United States are crammed into the week, including housing, consumer confidence and unemployment figures. Foreign markets will also release their normal scheduled data, so it will be important to be aware of European, Japanese and Chinese date that is announced in overnight markets.
The Gold Futures continued a slide last week after closing below Octobers low print. It appears that the Summer low is the next apparent target. With continued confidence in US Stock Indexes, it will be difficult for Gold to catch a bid. If there is a sudden reversal in US equities this week, it will be important to pay attention to whether any of the profit extracted from stocks is used to buy the dip in Gold. It is certainly a possibility, but at this point not etched in stone.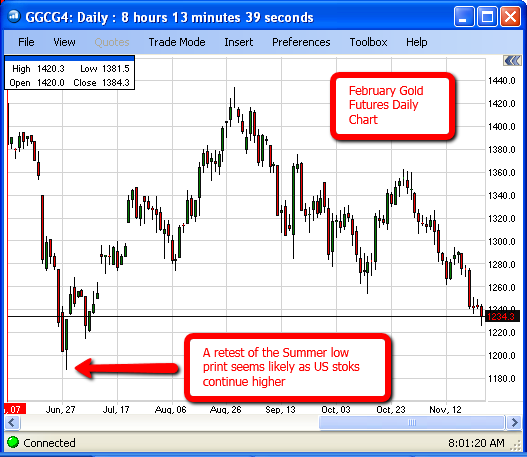 If you would like to discuss trading in the Futures and Futures Options markets with me, please feel free to call or email me directly. You can reach me directly at (888) 272-6926 or by email at [email protected].
Thank you for your interest,
Brian Booth
Senior Market Strategist
[email protected]
888.272.6926
** There is a substantial risk of loss in trading futures and options. Past performance is not indicative of future results. The information and data contained in this article was obtained from sources considered reliable. Their accuracy or completeness is not guaranteed. Information provided in this article is not to be deemed as an offer or solicitation with respect to the sale or purchase of any securities or commodities. Any decision to purchase or sell as a result of the opinions expressed in this article will be the full responsibility of the person authorizing such transaction.