Hello traders everywhere! Adam Hewison here, President of INO.com and co-creator of MarketClub, with your video update for Monday, the 25th of November.
As we start off this shortened Thanksgiving trading week, the bulls have a lot to be thankful for. This has been a very profitable year for trading stocks from the long side.
It would appear as though a great many well-known money managers have missed being fully invested during the stock market's latest move for one reason or another. Are these same money managers going to jump into the market before year's end? And if they do, is that going to improve their returns for their funds? So will they or won't they jump into a market that nobody loves?
The beautiful thing about technical analysis, is that it really doesn't pay any attention to the fundamental picture. And right now this market is being driven by the technicals and market perception that stocks are headed higher. The fundamentals are really a distant third.
What I mean by that, is there are three key parts to any market. There are the fundamentals of supply and demand, earnings, and so forth. Then there are the technicals, chart formations, moving averages, Trade Triangles and so forth. And then there is perception.
Perception is the one element that is perhaps the most powerful and in our minds really does move and drive the markets. As the Dow and the S&P have moved to all-time highs, it is difficult for anyone to be bearish.
There is nothing worse than being on the sidelines, like those money managers mentioned earlier, watching a market move higher every day and not being in it. That is why I think that some of the hedge fund and money managers who have been holding out buying stocks for whatever reason, will eventually cave and start buying stocks so they don't miss out on the move and get criticized by their shareholders and investors.
Today I will be looking at the major indices and major markets that I am following during this shortened holiday trading week. Look for volume, which has been low all year, to trickle down into Wednesday as most traders and investors head off to enjoy the Thanksgiving holiday with friends and family.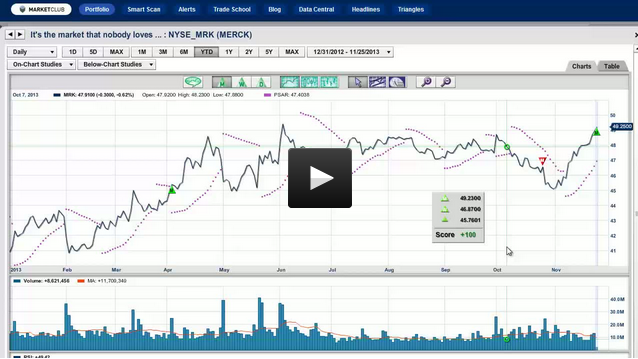 I will also be covering three stocks that hit new monthly highs. Merck & Co. Inc.(NYSE:MRK), Express Scripts Holding Company(NASDAQ:ESRX), Cubist Pharmaceuticals Inc.(NASDAQ:CBST)
As always we appreciate your feedback and are happy to answer any questions you may have on the markets mentioned in today's video. Feel free post a comment and interact with us below.
Thanks, and every success in the market.
Adam Hewison
President, INO.com
Co-Creator, MarketClub
Adam appears frequently on the following financial news channels as a guest expert. Click on any cable logo to watch Adam's latest appearance.