Hello traders everywhere! Adam Hewison here, President of INO.com and Co-creator of MarketClub, with your mid-day market update for Tuesday, the 5th of November.
There's a lot to cover today starting with Tesla (NASDAQ:TSLA), who reports earnings after the bell. Netflix (NASDAQ:NFLX) is looking good and Apple (NASDAQ:AAPL) is creating a new factory in America to build Apple products. A major biography about Amazon (NASDAQ:AMZN) and its founder, Jeff Bezos, is up for discussion and I'll also be covering why Pandora Media (NYSE:P) is not too concerned about Apple's new iRadio service.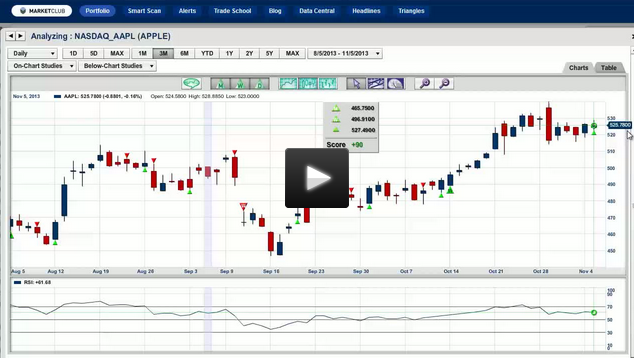 Tesla (NASDAQ:TSLA) Reports Earnings After The Bell
Can Elon Musk do it again and sell more Tesla S cars than his critics say he can? After the bell today, Tesla (NASDAQ:TSLA) will report its third-quarter earnings and judging by yesterday's market action, which saw this stock jump 8% in a day, perhaps the earnings are going to be better than what the critics are thinking. With the long-term monthly Trade Triangle positive on this particular stock, I see no reason to stand in front of the electric car revolution.
Netflix Stock (NASDAQ:NFLX) Is Moving And Grooving
Yesterday, Netflix (NASDAQ:NFLX) moved and closed at its second highest level for the year. The Trade Triangles remain in a positive mode for this market.
Apple (NASDAQ:AAPL) Creates More Jobs In America
Apple's CEO, Tim Cook, is a man of his words when he said that he wants to bring back more jobs to America. Soon Apple will open a new manufacturing facility in Mesa, Arizona which will employ 2000 people. I think this is a great move for Apple (NASDAQ:AAPL) and also a great move for America. I remain positive on Apple and I'm looking for this stock to move to the $580, possibly $600, level.
Amazon (NASDAQ:AMZN) - A Book About The Boss!
MacKenzie Bezos, wife of Amazon founder, Jeff Bezos, has criticized the book, "The Everything Store," saying it has "too many inaccuracies." This is sure to make it a best-seller on Amazon. For the past week or two, I believe this stock has been consolidating and re-adjusting its recent gains. With the Trade Triangles positive, I'm sticking with my long positions in this stock. I'm looking for Amazon (NASDAQ:AMZN) to move higher, possibly to the $400 level by year's end.
Pandora Media Shrugs Off Apple's iRadio
So far, Pandora Media (NYSE:P) has shrugged off Apple's attempt to muscle into the Pandora music play yard. I believe that Pandora is the leader in this field and expect it to move higher in the future. Technically, all of the Trade Triangles are positive on this stock and I think that will remain fairly constant for the balance of the year. I believe that most users prefer the Pandora experience to other music stations and are entrenched in the comfort of the Pandora cocoon.
I appreciate any comments, questions or feedback you may have on any of the stocks mentioned in today's post.
Please feel free to leave your comments, feedback, and any questions below.
Have a great trading day,
Adam Hewison
President, INO.com
Co-Creator, MarketClub
Adam appears frequently on the following financial news channels as a guest expert. Click on any cable logo to watch Adam's latest appearance.