Hello traders everywhere! Adam Hewison here, President of INO.com and co-creator of MarketClub, with your video update for Monday, the 2nd of December.
I hope everyone had a wonderful Thanksgiving holiday! As we are now into December, we can all look toward the end of the year. Despite the eight strong weeks we've seen, some folks are calling the current up move a bubble.
They could be right, but the trend is your friend and the trend is clearly on the upside for many stocks, particularly the ones that I have been talking about for most of the year.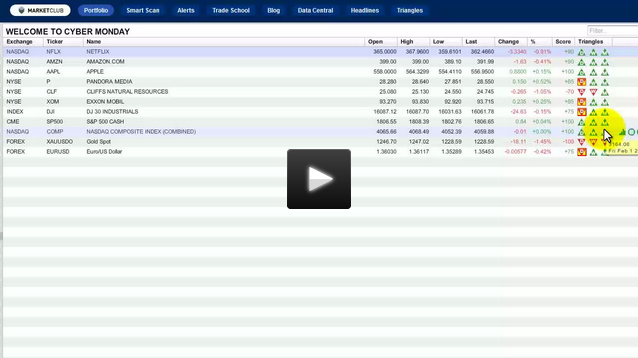 I talked about perception just before the Thanksgiving holiday and how it is one of the most powerful forces in the market. The perception now is these markets can and will move higher, perhaps to some of the levels I outlined in my special report on the major indices.
The Drones Are Coming
It is worth noting that Amazon hit a high today of $399 a share, which is very close to my target zone of $400 per share that I outlined well over a month ago. In the past couple of days, Amazon unveiled its latest, greatest idea - to deliver parcels by drones some time in the next five years. Whether this becomes a reality or not, you certainly have to congratulate Amazon for its forward-thinking and creative approach to making the customer happy.
I Remain Bullish On Apple
With all of the Trade Triangles positive for Apple, I still see this stock moving higher for most of December. I believe that Apple is going to have an all-out quarter, as I predict that Apple's iPad will be the most sought after gift this holiday season. In a recently released report, it shows that most users prefer the iPad and the IOS system over Google's android system, by a factor of four or five. This was really eye-opening news to many in the market, as it underscores just how powerful and important the Apple ecosystem is in users' minds. If you missed my earlier analysis of Apple, you can read about it right here.
It is also worth noting and looking back at the original buy point on Apple this year.
Is Pandora Media Worth Buying?
I'm going to take a look at one of my favorite stocks that may be offering a buying opportunity around current levels. I will explain what I am looking for and what will trigger me to take action. This is a fairly low-priced stock, compared to Apple or Amazon, but may have a nice percentage move. Take a look at this September 18th analysis of Pandora here.
As always we appreciate your feedback and are happy to answer any questions you may have on the markets mentioned in today's post. Feel free post a comment and interact with us below.
Thanks, and every success in the market.
Adam Hewison
President, INO.com
Co-Creator, MarketClub
Adam appears frequently on the following financial news channels as a guest expert. Click on any cable logo to watch Adam's latest appearance.