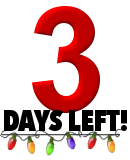 Only 3 days left to take advantage of our Special Holiday Membership rate! We don't want you to miss out on the lowest price we've ever offered.
Test the service with this special rate of $89 for 3 months of MarketClub (a 40% savings!) and have more time to see how MarketClub can benefit your trading in the new year.
• Scan for potential trades and charting setups with Smart Scan
• Determine entry and exit points with the Trade Triangles
• Know when to make a move with our Email Alerts
• Apply technical indicators and more with our Chart Technology
And much more...
Let MarketClub help you prepare your 2014 trading plan with the right tools for the job.
*This offer is only valid for new or returning customers. If you are a current member, we have a special renewal offer for you too! Members must contact the Support Team to access this special holiday savings.
Happy Holidays!
The MarketClub Team
[email protected]
1-800-538-7424
PS. For the holidays, our offices are closed until January 2nd. So, if you prefer to call us to take advantage of this offer, please leave us a voicemail with your name and email address and we'll honor the holiday pricing when we return. See you in 2014!