Yesterday, Groupon (NASDAQ:GRPN) flashed a new red monthly Trade Triangle. I believe this is a significant event for this stock, as it has also broken a long-term nine month trend line and completed a major head and shoulders top.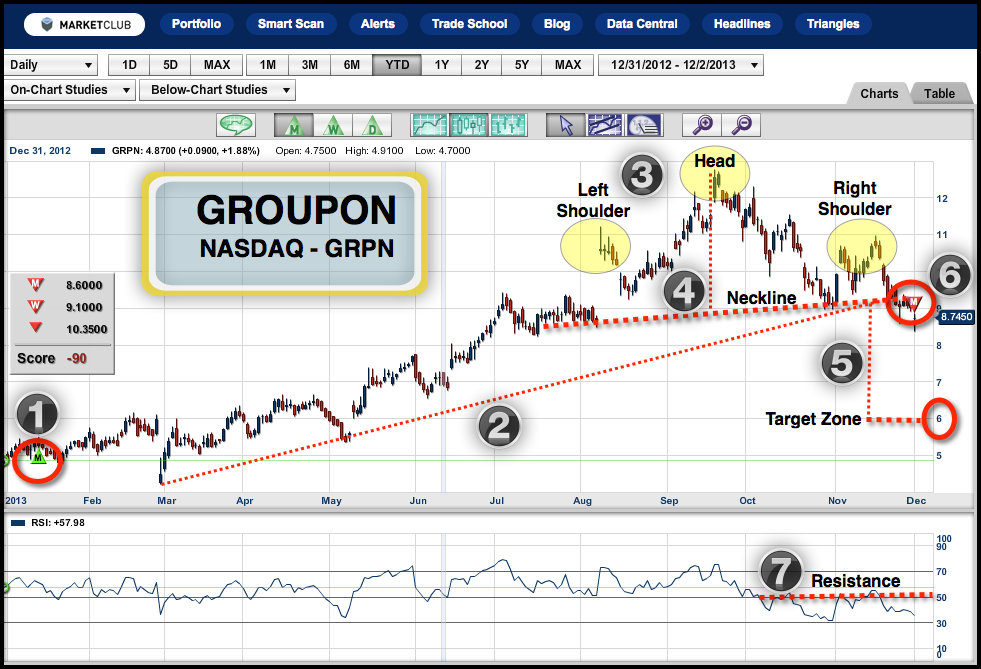 1.) Green Monthly Trade Triangle at $5.50 on 1/14/13
2.) 9 month long-term trend line
3.) Head and shoulders top
4.) Head and shoulders neckline
5.) Target zone below $6.00
6.) Red Monthly Trade Triangle at $8.60 on 12/02/13
7.) Resistance at the 50 Line on the RSI Indicator
At one time, Groupon was the darling stock for investors. In fact, I think it was Google that wanted to buy Groupon for several billion dollars before they went public, but they refused to sell (BIG MISTAKE). I feel that the novelty of Groupon is wearing off with the public and that Groupon is killing its email list, which is or was its most valuable asset, by bombarding users every day with offers. On the other side of the coin, providers for Groupon are tiring of providing services, as more and more service providers are finding that they are just giving away their services and getting very little back in return.
Yesterday, Goldman Sachs also raised the red flag on Groupon (NASDAQ:GRPN). According to Goldman Sachs, Groupon was listed as no longer deserving of a premium valuation against peers, and the firm cut the objective price target to $11 from $12 for the next 12 months. The valuation premium, again according to Goldman Sachs, is no longer being deserved due to decelerating revenue growth.
From the completion of the head and shoulders top and the break of the long-term trend line, we could see Groupon start to slowly erode down to the $6 level or lower. Not everyone likes or feels comfortable shorting stocks, but Groupon may offer an opportunity to go short should we see a bounce back to the $9 or $10 level.
As with any investment or trade always use money management stops to protect capital.
I would like to know what you think, so please feel free to add your comments below.
Every success in your trading,
Adam Hewison
President, INO.com
Co-Creator, MarketClub