Hello traders everywhere! Adam Hewison here, President of INO.com and co-creator of MarketClub, with your video update for Friday, the 24th of January.
Today I'm going to take another look at gold, as it appears as though we are seeing a rotation out of stocks and into this precious metal. Ten days ago, I wrote a special report on gold, which you can see here.
As we started the new year, 2014 seemed to have a distinct different vibe to it compared to 2013. Last year was obviously a great year for buying and holding onto stocks, 2014 may be cut from a different swath of cloth. Markets change and you have to be able and willing to change with them.
This is a very short video looking at spot gold and the SPDR Gold Shares ETF (PACF:GLD). I hope you learn from the video and take away some valuable knowledge that can help you in the markets.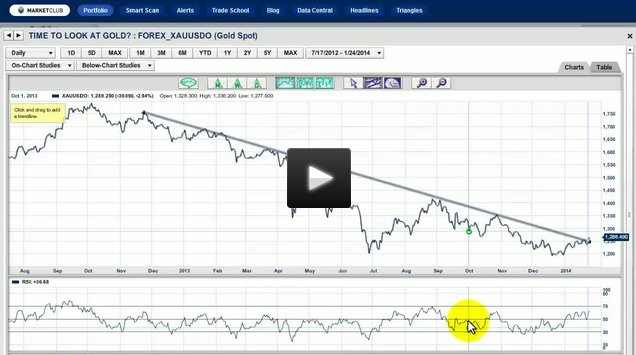 Every success with MarketClub,
Adam Hewison
President, INO.com
Co-Creator, MarketClub
Adam appears frequently on the following financial news channels as a guest expert. Click on any cable logo to watch Adam's latest appearance.