Hello traders everywhere! Adam Hewison here, President of INO.com and co-creator of MarketClub, with your video update for Thursday, the 23rd of January.
The DOW Is Lower On The Week
Today's market is a reality check for many traders who just finished digging out from the new mini ice age we are witnessing here in the East (what ever happened to global warming?), as they returned to their trading desks in full force today. Today we witnessed the weekly Trade Triangle turn red for the DOW, which could be a harbinger of things to come.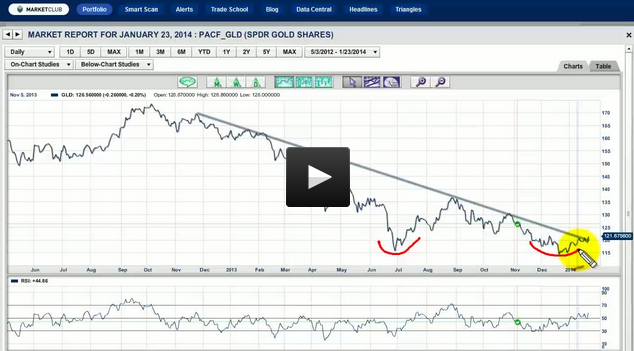 Gold Is Higher On The Week
In contrast to the indices moving lower, gold prices are once again attracting attention and trending higher. Many investors are adding a little more of the precious metal to their portfolios. Also, this metal could be on the cusp of a major acceleration and I will explain what I mean in today's video.
The Dollar Is Lower On The Week
The Euro is trending higher for the week against the Dollar. Last Friday the USD/EUR closed at 1.3540 and I will be taking a close look at this market today and analyzing just how low the Dollar can go.
Crude Oil Is Higher On The Week
With the cold weather here in the East and the threat of more cold weather coming, crude oil and natural gas have been steadily moving higher for the week. I will be looking at this market and seeing just how expensive it's going to be to fill up our fuel tanks in the near-term.
Every success with MarketClub,
Adam Hewison
President, INO.com
Co-Creator, MarketClub
Adam appears frequently on the following financial news channels as a guest expert. Click on any cable logo to watch Adam's latest appearance.