Each Week Longleaftrading.com will be providing us a chart of the week as analyzed by a member of their team. We hope that you enjoy and learn from this new feature.
This week's focus turns to the March Canadian Dollar futures, where recent down-trend market structure has given way to a possible continuation of the sell-off in coming days.  After posting a recent swing low of 88.99 on January 31st, the market has since experienced short covering off of the recent sell off.  Last week, we saw consolidation off of the recent short covering.  In weeks past, we have seen multiple tests, and failures, of the 20 day moving average, making this indicator a key resistance point.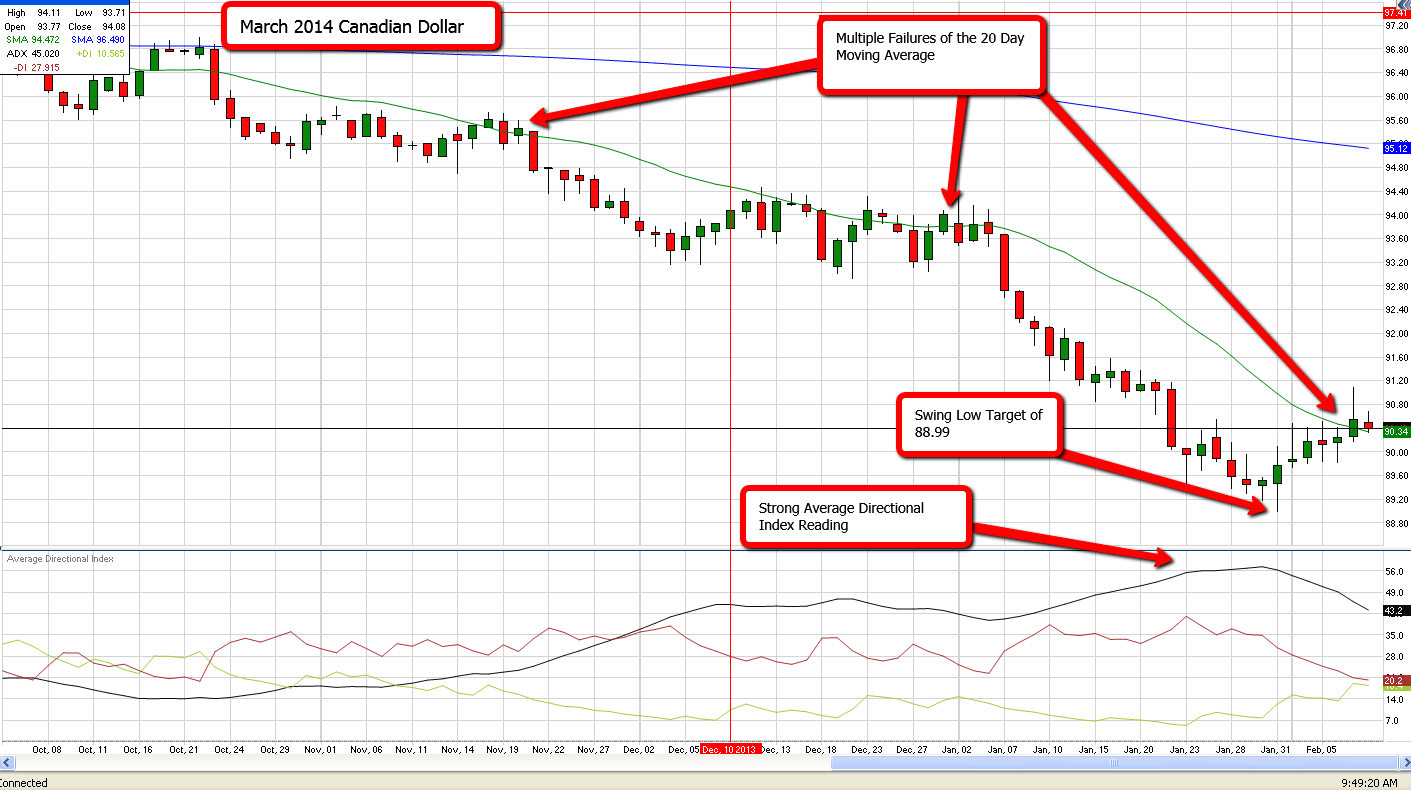 As we open this week, if we see yet another failure of the 20 day moving average, traders will likely expect a sell off if the market breaches Friday's low of 90.17.  Along with a strong average directional index reading, the March Canadian Dollar could have strong downside momentum in the near term.  If this scenario takes place, the likely target would be the March Canadian Dollar's swing low of 88.99. 
I advise clients on trading futures and futures options markets on a day to day basis.  If you have any questions regarding this chart or questions regarding trading futures and futures options, feel free to call me directly at 888-272-6926.
If you would like to discuss trading in the Futures and Futures Options markets with me, please feel free to call or email me directly. You can reach me directly at (888) 272-6926.
Thank you for your interest,
James Leeney
Account Executive
Phone: (888) 272-6926
www.longleaftrading.com
** There is a substantial risk of loss in trading futures and options. Past performance is not indicative of future results. The information and data contained in this article was obtained from sources considered reliable. Their accuracy or completeness is not guaranteed. Information provided in this article is not to be deemed as an offer or solicitation with respect to the sale or purchase of any securities or commodities. Any decision to purchase or sell as a result of the opinions expressed in this article will be the full responsibility of the person authorizing such transaction.