Time is running out, are you still looking for that perfect Valentine's gift for a loved one? If you answered yes, this may be the perfect gift that you have been looking for.
It may not be the little blue box that so many women love, but the stock of Tiffany & Co. (NYSE:TIF) is just as valuable.
As you can see on the chart, Tiffany & Co. was selling below $20 a share back in March of 2009 and since that time this stock has risen over 400%. I think the current climate and chart formation is setting up for this market to have another push into new highs.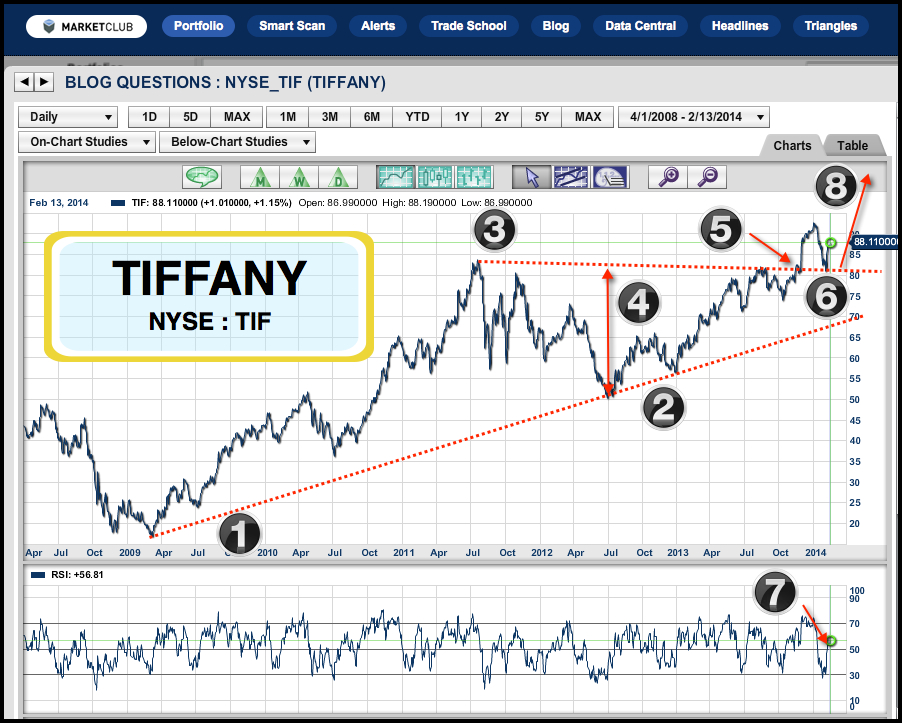 There is a long-term trend line that starts back in March 2009 and this line is confirmed in July of 2012 and again in January of 2013. This trend line is significant and should it be broken, it would definitely change the trend of Tiffany's stock.
After making a high in July of 2011 at around $83 a share, Tiffany & Co. pulled back and made a low of $50 approximately one year later. It took another year for Tiffany to rally and get back to the highs that were seen in July of 2011.
The previous high of $83 proved just too difficult for this market to overcome on its first try and it wasn't until late November of last year that Tiffany was able to crack resistance (#5) on the chart. This previous area of resistance is now acting as support. We have already seen it tested once and it may be tested again, however I do expect this area of support to hold.
Technically speaking, if you measure the distance from the low point of $50, up to the resistance point of $83 a share, it gives you a difference of $33. I am going to round that number down to $30 to be a little more conservative. If you then add that $30 to the breakout area of $80, it provides you with an upside target zone for Tiffany & Co. of approximately $110 a share.
So what could go wrong with this trade? Well, we may not see any strong demand for Tiffany's products, which tend to be in the luxury market. The luxury market hasn't been as affected in sales as let's say a Target or Walmart. Another warning sign could be if the Trade Triangles turn red, that would be a strong indication that this strategy is not working out.
Having said all that, I still think the probabilities are that Tiffany & Co. (NYSE:TIF) can and will do better. Of course, with any investment you must use sound money management principles to protect capital.
So is Tiffany & Co. the perfect Valentine's gift? I think so, what's nice about this gift is you can give it to anyone you love and they will appreciate it.
What Does This Company Do?
Tiffany & Co., through its subsidiaries, designs, manufactures, and retails jewelry worldwide. The company operates through Americas, Asia-Pacific, Japan, Europe, and other segments. Its jewelry products include fine and solitaire jewelry; diamond engagement rings and wedding bands to brides and grooms; and non-gemstone, sterling silver, gold, metal, and platinum jewelry. The company also sells timepieces, leather goods, sterling silver goods, china, crystal, stationery, fragrances, and accessories. It operates 275 stores in 24 countries. The company was founded in 1837 and is headquartered in New York, New York.
Chart Legend & Technical Picture (Black Numbers)
1. Major trend line.
2. Major trend line confirmed with 3 points
3. Resistance and now support line
4. Measurement from trend line to resistance line($30)
5. Break above resistance line
6. Test of the support line
7. RSI line above 50 (Bullish)
8. Upside target zone $110.
To summarize, I expect to see Tiffany & Co. (NYSE:TIF) shares shine again and move up to the target zone of $110. With all of the Trade Triangles green, look for Tiffany & Co. to challenge and surpass their recent highs in the days and weeks ahead.
Have a great Valentine's Day everyone,
Adam Hewison
President, INO.com
Co-Creator, MarketClub