Watch this quick educational video from an Elliott wave forex expert, Jim Martens
By Elliott Wave International
Last fall, the editor of Elliott Wave International's Currency Pro Service, Jim Martens, observed a beautiful pattern in the chart of the Japanese yen. This pattern, called a triangle in Elliott wave terms, offers a very clear outlook for the market.
What is a triangle? It's a corrective pattern, meaning that it moves in the direction opposite the primary trend. And, it's very easy to spot on a chart. Here's an idealized diagram of a triangle.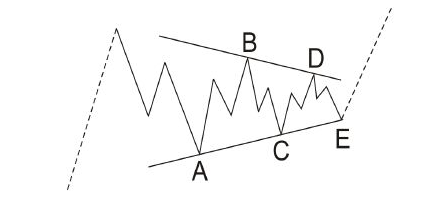 When a triangle ends, the old trend should resume. This allowed Jim to make a very clear forecast for the dollar/yen. Watch this 7-minute video to see the triangle he observed, and the outcome.
---
Get Forecasts for the Forex Markets FREEForex FreeWeek is On!Now through 12:00 noon Eastern (NY) time on Wednesday, Feb. 19, enjoy free 24/7 access to intraday, daily, weekly and monthly forecasts inside Jim's Currency Pro Service.

Free means free. No catch, no obligation, no credit card. You get all the forex-trading analysis, charts, and video updates for the world's 11 most-popular FX markets from Elliott Wave International's Currency Pro Service.

Join Forex FreeWeek now before this rare opportunity ends >>
This article was syndicated by Elliott Wave International and was originally published under the headline (Video) Want a Sure-Fire Forex Trade Setup? Look for a Triangle. EWI is the world's largest market forecasting firm. Its staff of full-time analysts led by Chartered Market Technician Robert Prechter provides 24-hour-a-day market analysis to institutional and private investors around the world.