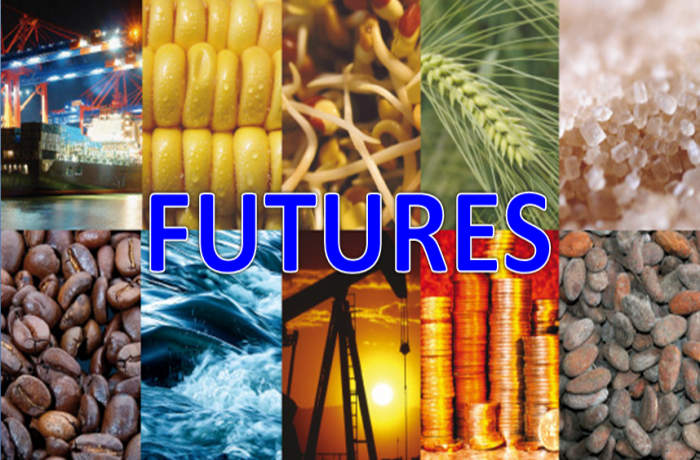 We've asked Michael Seery of SEERYFUTURES.COM to give our INO readers a weekly recap of the Futures market. He has been Senior Analyst for close to 15 years and has extensive knowledge of all of the commodity and option markets.
Michael frequently appears on multiple business networks including Bloomberg news, Fox Business, CNBC Worldwide, CNN Business, and Bloomberg TV. He is also a guest on First Business, which is a national and internationally syndicated business show.
Gold Futures
Gold futures in the April contract finished higher by another $20 an ounce at 1,320 climbing higher for the 7th consecutive trading session hitting 3 month highs and this market looks terrific to the upside and I'm still recommending long positions as I think prices will retest the 1,360 level as the commodity markets have caught fire to the upside. The U.S dollar continues to decline against the foreign currencies and that is starting to push gold and many other commodities higher as gold is now trading above its 20 and 100 day moving average showing you that the trend is higher with outstanding chart structure so continue to play this with either a long futures contract or look at some June bull call option spreads as I think there's a chance prices could head up to 1,400 come springtime especially if the U.S dollar makes contract lows. In the old days gold would selloff if the stock market rallied and stocks are making new highs once again today as well and gold rallied and that is unusual which tells me that there is some real strength in equities and gold as they both are going up together.
TREND: HIGHER
CHART STRUCTURE: IMPROVING
Silver Futures
Silver futures in the May contract skyrocketed today in New York hitting a 3 month high finishing up $1 an ounce to close around 21.47 breaking out of the recent 11 week consolidation and as I've been talking about in previous blogs I think silver is in a special situation to the upside as the longer the consolidation the more powerful the move in my opinion. I am strongly recommending some type of bullish position in silver as I think the bottom has occurred for the year 2014 as I would look at bull call spreads for the month of July or an outright futures position as I think prices are headed up to $23 relatively soon which is the next resistance point and it would not surprise me to retest last summer's high of $25 as the commodity markets have turned bullish. Gold futures were up another $20 today closing at 1,320 also helping push silver which has not participated in the recent rally but definitely joined the party today as prices are now trading above their 20 and 100 day moving average for the 1st time in many months which is telling me the bull market has just begun. The chart structure in silver is outstanding and that is also one of the reasons why I was recommending a bullish position because it allows you to place a relatively tight stop minimizing your risk in case you are wrong but at this point I would continue to play this market and many other commodity markets to the upside as the U.S dollar seems to be getting weaker on a daily basis.
TREND: HIGHER
CHART STRUCTURE: EXCELLENT
Soybean Futures
Soybean futures in the November crop which will is considered the new crop which will be harvested this fall sold off slightly this Friday afternoon in Chicago finishing down $.03 at 11.30 a bushel hitting a 6 week high earlier in the trading day as a possible double bottom formed here at least in the short term at 10.88 which happened a little over 2 weeks ago as prices have rebounded with many of the other commodity markets. I am currently recommending to sit on the sidelines in this market as there really is no trend as prices hit a 2 week high last week so it's time to move on if you are short but I'm not convinced that this market doesn't have real fundamental problems ahead of itself with over planting here in the United States and Brazil which should increase carryover long-term and if another record crop comes out United States you will see prices fall however the commodity markets have turned to the upside finally joining the stock market so prices in the short term might head a little higher and I'm a technical trader so I would not be short soybeans at this time but wait and sit on the sidelines for a better pattern to develop.
TREND: HIGHER
CHART STRUCTURE: IMPROVING
Cotton Futures
Cotton futures in New York hit a one year high this week up around 130 points trading at 89.04 in the May contract continuing its bullish momentum as the commodity markets are higher once again with a lower U.S dollar as investors continue to be bullish. Cotton prices are above their 20 day & over 600 points higher from their 100 day moving average which tells you that this trend is very strong and I do believe higher prices are coming. I've been recommending a long position in cotton for quite some time and if you took that recommendation I would be placing my stop below the 10 day low at 85.34 & that stop will be moved up basically on a daily basis as I think prices could possibly test 100 in the next couple of weeks. There is a tremendous price difference between old crop/new crop of about 900 points which tells you there is very strong demand here in the short term while the December crop which is considered the new crop which will be harvested this year as traders are expecting a large crop and a higher supply which is why the price is much lower.
TREND: HIGHER
CHART STRUCTURE: GOOD
Coffee Futures
Coffee futures in the May contract are trading far above their 20 &100 day moving average up over 400 points for the trading week as trading will resume on Tuesday due to Presidents day trading at 142.20 a pound right near recent highs as prices have consolidated from the sharp spike up due to the fact of hot & dry weather in central Brazil, as prices remain bullish in my opinion and I'm still recommending a long position placing your stop loss below the 10 day low which stands at 119.00 pound and that stop will be raised on a daily basis as I think coffee prices will make new highs later in the week. If the drought continues for 2 – 4 more weeks prices could skyrocket in my opinion as the crop production is currently at 54 – 5 5 million bags in Brazil & my estimate could go as low as 52 million bags which would send this market back up to the 2.00 pound level but the problem is volatility is very high so if you're looking at a limited risk situation I'd be looking at buying bull call option spreads in the month of July or if you trading a large account buy the futures contract as the bull market continues in coffee. This market has terrible chart structure however it is improving over the last week and we might consolidate a little longer as I believe coffee prices are headed higher.
TREND: HIGHER
CHART STRUCTURE: IMPROVING
Lean Hog Futures
Lean hog futures in the April contract finished up another 130 points closing at 96.00 a pound retesting contract highs and I've been recommending a bullish position in hogs for quite some time as I think we will crack 100 possibly next week as demand is very strong as the bull markets in the meat sector continues. The difference in price between cattle and hogs is still very extreme and I think hog prices will start to catch up pretty quickly so continue to place your stop loss at the 10 day low booking profits as I think this is one of the strongest trends developing while retaining excellent chart structure. Hog futures are trading above their 20 and 100 day moving average and have been for quite some time tells you that this is the classic slow grind higher and those are the markets that I like to follow because they can trend for long periods of time without wild gyrations so I continue to recommend buying the hog market at this time as we have not seen the high in cattle or hogs in my opinion.
TREND: HIGHER
CHART STRUCTURE: EXCELLENT
Orange Juice Futures
Orange juice futures in the May contract finished down nearly 300 points this week while still trading above their 20 and 100 day moving average right near 1 year highs as prices bounced off major support which was hit on 12 different occasions around 138.00 now we are retesting the upper end of the trading range at 150 settling in New York today at 145. I am a trend follower and I do believe the trend is higher in orange juice, however prices have not broken out just yet so I would be buying this market above 150.00 placing my stop below 138 risking around $1,800 per contract as the Florida crop was hampered by greening disease which cut some production while Brazil is suffering from major heat and that also could cut production as the bottom has been created in the short term in in my opinion.
TREND: HIGHER
CHART STRUCTURE: IMPROVING
Where Should You Place Your Stops? Identifying where stops exist in the market is an important lesson to learn because placing a correct stop loss that will improve your trading tremendously over the course of time. Nobody knows for sure where stops are located, however I have learned a couple of things over my 20 year career and I have a general idea where stops are placed and why. Buy stops are generally placed above the 10 day high as well as above contract highs as the bulls generally are buying more and the short selling are getting stopped out. Sell stops are usually placed at the 10 day low as well as below contract lows which means the shorts are adding to their position and the longs are getting stopped out as they figure they are wrong. The other common places to have stops are at certain moving averages such as the 20 or 100 day moving average where traders think either the trend is turning bullish or the market is starting to break down. Placing stops to close or not at important price levels can get very frustrating because the market can stop you out and then go the direction that you thought leaving you behind and out of the market. Placing stops is one of the most important aspects of trading in my opinion.
If you are looking for a futures broker feel free to contact Michael Seery at 800-615-7649 and he will be more than happy to help you with your trading or visit www.seeryfutures.com
SEERY FUTURES ACCEPTS CANADIAN COMMODITY ACCOUNTS
There is a substantial risk of loss in futures, futures option and forex trading. Furthermore, Seery Futures is not responsible for the accuracy of the information contained on linked sites. Trading futures and options is Not appropriate for every investor. My opinion in this blog are for general information use only and are not intended as an offer or solicitation with respect to the purchase or sale of any futures or option contracts.
Michael Seery, President
Seery Futures
Facebook.com/seeryfutures
Twitter–@seeryfutures
Phone #: (800) 615-7649
[email protected]