Each Week Longleaftrading.com will be providing us a chart of the week as analyzed by a member of their team. We hope that you enjoy and learn from this new feature.
This week's focus turns to the June 2014 Euro currency futures, where recent weak March PMI results leads to a downward path of least resistance. The recent sell off has been supported by ongoing talk that the US might be closer to raising interest rates than previously thought, giving lift to the US Dollar.
We have seen a sharp retracement from the recent swing high of 139.66 posted on March 13, 2014. Last Wednesday and Thursday, we saw two sharp sell offs on increased volume, which would confirm a bearish sentiment for this week. Following the two day sell off, Friday saw a consolidation within Thursday's range, and we open this week looking for a bearish continuation.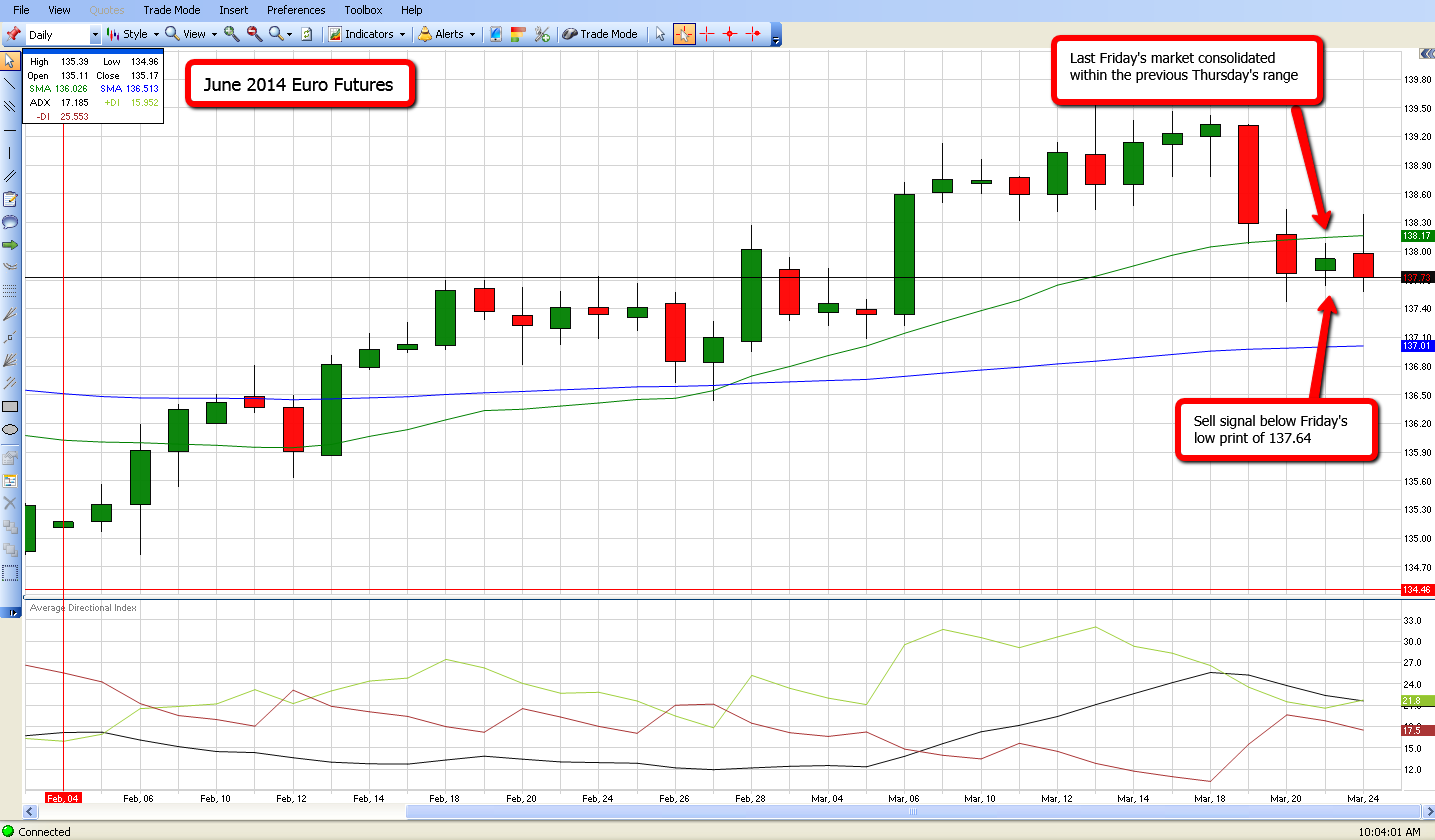 For a swing trade, I would be a seller in the June 2014 Euro futures (CME:6E.M14.E) if the market breaches Friday's low print of 137.64. If this trade were to fill, I would place a protective stop just outside of Thursday's high of 138.44, rolling the stop down behind the trade accordingly. The near-term target for this trade is the 200 Day Moving Average, currently at 137.01.
I advise clients on trading futures and futures options markets on a day to day basis. If you have any questions regarding this chart or questions regarding trading futures and futures options, feel free to call me directly at 888-272-6926.
Thank you for your interest,
James Leeney
Account Executive
Phone: (888) 272-6926
www.longleaftrading.com
** There is a substantial risk of loss in trading futures and options. Past performance is not indicative of future results. The information and data contained in this article was obtained from sources considered reliable. Their accuracy or completeness is not guaranteed. Information provided in this article is not to be deemed as an offer or solicitation with respect to the sale or purchase of any securities or commodities. Any decision to purchase or sell as a result of the opinions expressed in this article will be the full responsibility of the person authorizing such transaction.