Each Week Longleaftrading.com will be providing us a chart of the week as analyzed by a member of their team. We hope that you enjoy and learn from this new feature.
This week's focus shifts to the grain markets and looming USDA reports that will be released during today's trading session. The general sense is that Soybean planted acreage could be higher than expectations. The Department of Agriculture is expected to report a significant shift in planted acreage to Soybeans from Corn because of favorable pricing. In the past week, this sentiment seemed to be continually priced into the market. Any indication of less than expected acreage could add fire to an already bullish market and cause May Soybeans to make a move toward $15.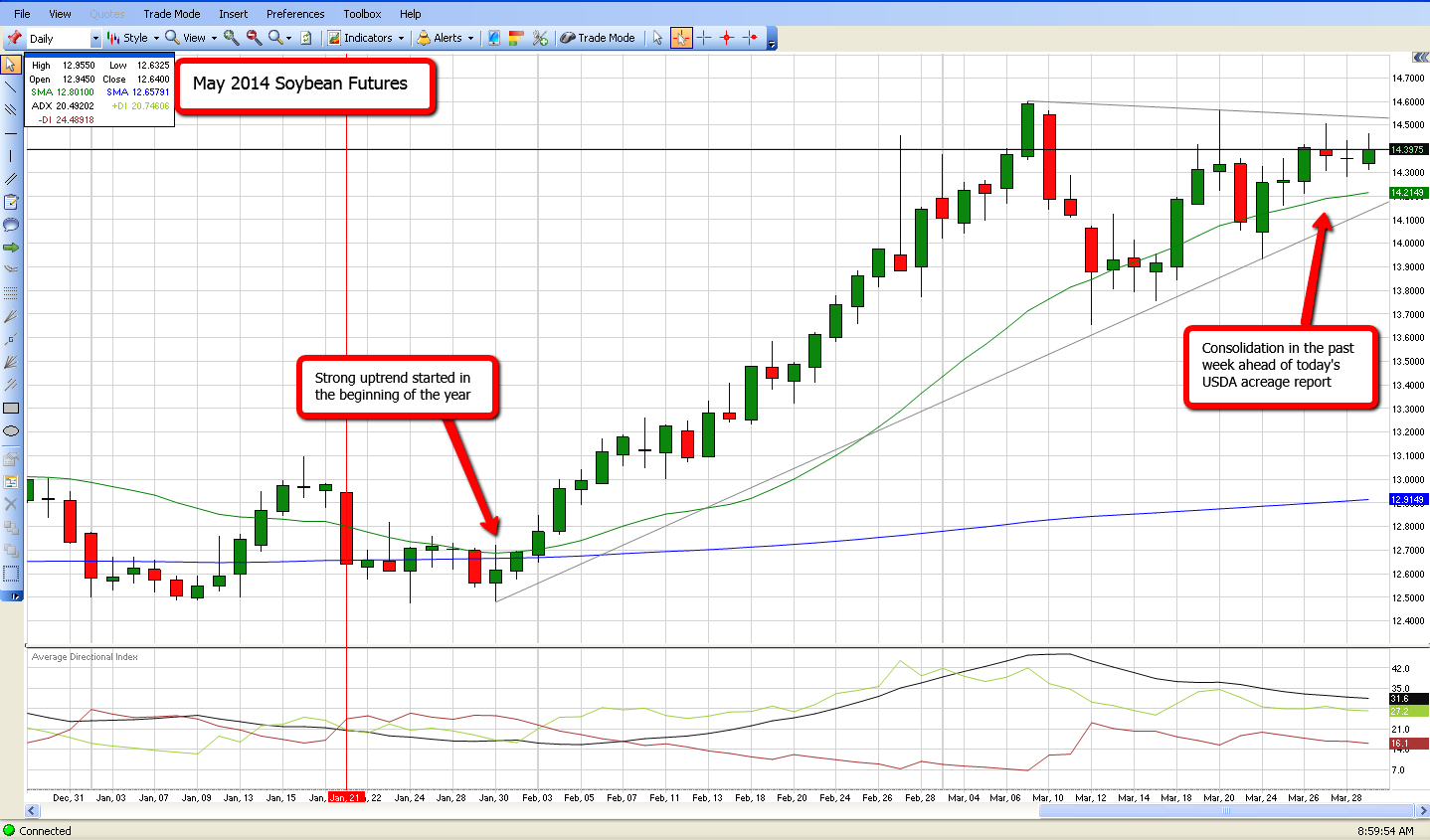 As we turn to the May Soybean chart, we are able to clearly identify a very strong up-trend in the market since the start of the new year. After posting the high print of $14.60 on March 7, the market has consolidated as traders positioned themselves for today's March 31st USDA report. With so much sentiment geared towards a large expected acreage in Soybeans, an underwhelming number is very possible. In this case, I would look to take a buying position in the Soybean market and look for $15/bushel in the near future.
For a swing trade, my entry buying price would be at $14.55, which would be a breach of the recent consolidated range. If filled, I would look to place a stop below the 20-day moving average and roll it up accordingly to mitigate risk.
To take advantage of this move with a longer-term view point, I would look to purchase relatively inexpensive call options and option spreads where risk on the position is limited to what you pay for the option.
I advise clients on trading futures and futures options markets on a day to day basis. If you have any questions regarding this chart or questions regarding trading futures and futures options, feel free to call me directly at 888-272-6926.
Thank you for your interest,
James Leeney
Account Executive
Phone: (888) 272-6926
www.longleaftrading.com
** There is a substantial risk of loss in trading futures and options. Past performance is not indicative of future results. The information and data contained in this article was obtained from sources considered reliable. Their accuracy or completeness is not guaranteed. Information provided in this article is not to be deemed as an offer or solicitation with respect to the sale or purchase of any securities or commodities. Any decision to purchase or sell as a result of the opinions expressed in this article will be the full responsibility of the person authorizing such transaction.